John Southgate to become London-based partner as part of consultant's transport and infrastructure team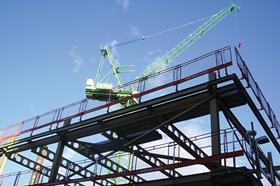 Consultant Gardiner & Theobald has hired former Capita Symonds infrastructure boss John Southgate.
Southgate is joining Gardiner & Theobald (G&T) as a London-based partner next week and will work with the consultant's transport and infrastructure teams.
He was previously Capita Symonds' director of infrastructure and international business development.
Phil Armstrong, G&T partner leading the transport and energy sectors, said: "We are delighted to welcome John to G&T. His area of expertise will be a great asset to the firm and in particular to the transport, energy and infrastructure groups that he will be working alongside."
Meanwhile, Capita has poached one of engineer Cundall's partners to fulfil the role of operations director in its design and management arm.
Cundall partner Jack Devlin has previously worked on a range of design and project management schemes. He joined Cundall in 2011 as building services director in Scotland, where he helped to raise the profile of the firm. Before joining Cundall he worked as a regional business line director atAecom.
His new role at Capita will see him focus on the commercial and operational aspects of its design and management business.