Gensler-designed project to include solar panels that can be replaced as technology improves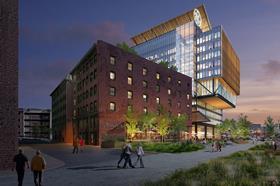 US-based engineering giant General Electric has revealed plans for an ultra-sustainable headquarters in Boston, Massachusetts.
The Gensler-designed project (pictured) includes green roofs and a giant "solar veil" of solar panels that will curve over the south side of the building, designed to evoke a massive sail as a tribute to Boston's maritime heritage.
General Electric (GE) has submitted the scheme - which will see two existing brick buildings remodelled and a new 12-storey office block built - to local planners.
Construction work on the brick buildings is expected to start towards the end of this year, while work on the new building will start in the first quarter of next year. The whole project is set to complete in 2018.
Speaking to Building, Gensler's project director on the scheme, Todd Dundon, said the solar veil was designed to improve energy efficiency as the buildings get older, with individual panels designed to be removed and replaced with new ones as technology improves.
He said: "The solar veil will harness the sun's energy, shade the building's southern facade, and reduce glare and solar heat gain.
"Its photovoltaic panels are 'plug and play' - as panel technology improves, individual panels can be switched out, and so this evolving building will become more energy efficient as it becomes older."
In its public filing on the project, GE said the rooftop solar panels and vegetated roof areas would "mitigate heat island effect, help manage stormwater runoff, provide new habitat for wildlife and extend the life of the roof materials".
Another notable sustainability aspect of the project is its car park.
The development is expected to house 800 GE employees but will have only 30 car parking spaces as part of an underground garage, in an attempt to encourage staff to walk, cycle or make use of public transport.
Situated next to the Fort Point Channel, GE said the buildings will be resilient to any rise in sea levels thanks to the ground floor and critical systems being raised.