Outpost in Chennai adds to country's 200 staff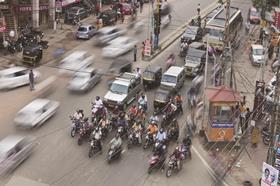 Gleeds has expanded its operations in India with the opening of a fifth office in the country.
Located in Chennai on India's south-east coast, the new office is expected to become a hub for the consultant's new Indian research and development division, as well as providing cost and project management services.
And its team headed up by director Vishal Shah have already won work on developer Virtuous Retail's new shopping centre, which is part of a 4.8 million sq ft mixed-use scheme in the city.
The firm said it was already planning to increase the headcount at its new outpost by 50% during its first year in operation.
Gleeds' India business currently employ over 200 staff and is managing projects across 19 cities.
Richard Steer, chairman of Gleeds Worldwide, added: "Chennai is a major business centre and therefore it was imperative that the business had a base here from which to operate.
"Growth in this area has predominantly been driven by the financial, healthcare, technological, automotive and manufacturing sectors so it presents a real opportunity for us and I am confident that we will flourish, as we have elsewhere in the country."
Gleeds also has offices in Mumbai, Delhi, Bangalore and Pune.