Northern housebuilder says profit for first half of its financial year up 52%
Northern housebuilder MJ Gleeson has said it is on course to report full year results to June "significantly ahead" of existing expectations, as it reported half year profit up by 52%.
The firm reported a pre-tax profit of £20.3m for the six months to December 31, on turnover of £142.6m, up 36% on the same period last year.
The improved performance came both from the sale of new homes, which saw revenue increase by 28%, and £8.2m in turnover from the firm's land trading business, which sold no sites at all in the same period in 2019.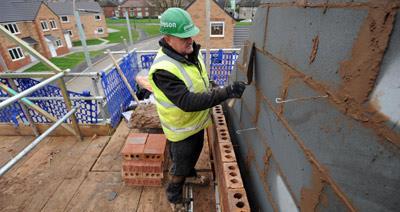 Gleeson chief executive James Thomson said the increase in turnover and profitability, driven by "strong demand" seen since the lifting of lockdown restriction last spring, increased earnings per share at the housebuilder by nearly 44%.
The firm completed the sale of 951 homes in the period, up from 811 in the same period last year.
Thomson said the market had allowed the firm to open a "record" 17 sites during the period, meaning it is on course to build 1,775 for the year as a whole, and putting it "comfortably" on track to deliver its target of 2,000 homes in the next financial year.
Thomson said: "In the absence of any unforeseen circumstances, the Board is confident that results for the full year to 30 June 2021 will be significantly ahead of current market consensus."
Around two-thirds of Gleeson' customers benefitted from the government's Help to Buy scheme, but the firm said the new stricter version of the scheme, commencing in April, would not impact it because its homes – which sold for an average price of just £140,600 in the period – were targeted at first time buyers and cheap enough to pass under the new regional price caps.
Shares in Gleeson rose more than 3% on the news, despite other housebuilders seeing prices fall back.
But, amid growing signs of the housing market slowing ahead of the end of the stamp duty holiday, Thomson also warned that there was still "considerable uncertainty around the timing and speed of economic recovery amidst the ongoing pandemic."