Housebuilder see bottom line fall by 86%
Pre-tax profit at housebuilder MJ Gleeson slumped by 86% for the year to June 30 as it scrambled to react to the covid-19 crisis.
In annual results released today, the firm said the need to shut sites during its spring selling season had resulted in a sharp drop in sales but added demand had now returned, allowing it to recommit to its target to build 2,000 homes per annum by 2022.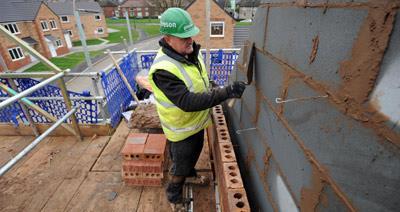 Gleeson said pre-tax profit fell to just £5.6m from £41.2m, on turnover of £147m, down 41%.
The 86% drop in profit compares to a 50% fall at Barratt and a collapse into loss at Vistry, reported last week.
The number of homes it completed sales on fell by a third, to 1,072, from 1,529, while the firm's strategic land business was even harder hit, with the number of land sales falling from nine to two.
But Gleeson chair James Gleeson said the firm was "currently seeing strong demand", which he expected to continue through the year, despite fears over "rising unemployment, the end of the stamp duty holiday and the forthcoming changes to the Help to Buy scheme"
He said: "We have therefore re-affirmed our interim target of delivering 2,000 homes per annum in 2022 and will prioritise investment in the business to achieve it."
Chief executive James Thomson said that selling prices had now risen above pre-covid levels and that the firm expected to return to pre-crisis levels of construction work by January next year.
The firm, which has an order book up 52% on the previous year, did not give a figure for current sales per site per week.