Architect made comments at COP26 summit
The climate crisis is a design issue that we have the brains to solve, Norman Foster told an event at COP26 in Glasgow.
Speaking alongside former US secretary of state John Kerry, the architect revealed how he first became interested in environmental concerns in the 1960s.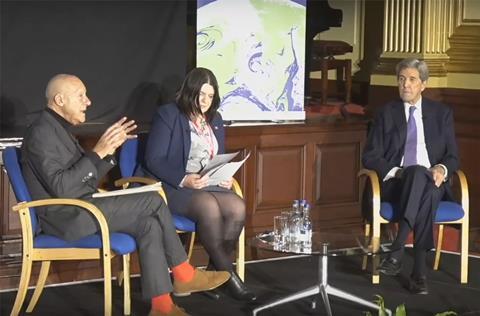 The pair – who are neighbours in Martha's Vineyard, the New England holiday island favoured by the rich and famous – were the keynote guests at a breakfast organised by C40, a global network of mayors.
Foster was asked why architects and urban planners had allowed cities to become clogged with traffic.
"We ignored the lessons of history," he said adding the post-war rise of the car had encouraged sprawl.
"I think we are rediscovering the benefits of traditional cities and the importance of the infrastructure," he said. "I'm an architect but I'm probably more passionate as an urbanist about the DNA of a city, the urban glue that binds all the buildings together – the boulevards, the plazas, the public spaces, the bridges, the connections – that's what determines the quality of urban life and that's where the investment should go."
He added: "Global warming is a design issue. We have the ability, we have the brains, we have the technology."