Union's claim set to involve firms including Carillion, Balfour Beatty and Sir Robert McAlpine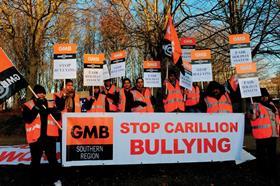 At least 10 construction firms including Carillion, Balfour Beatty and Sir Robert McAlpine are set to face a new High Court claim from the powerful GMB union over alleged blacklisting in the construction industry.
The union said it had appointed leading law firm Leigh Day & Co to prepare a compensation claim in the High Court on behalf of members who claim they were denied work because they were on a blacklist of 3,200 people.
A union spokesperson said: "We've seen people applying for jobs on major projects for years and not getting them." Construction firms paid to access the list, which was held by the now defunct Consulting Association, prior to it being uncovered in 2009.
A source close to the union said the claim would be made against contractors including Carillion, Balfour Beatty and Sir Robert McAlpine, although the level of damages sought is not known.
The legal action follows a separate High Court claim being prepared by lawyers Guney Clark & Ryan on behalf of the Blacklist Support Group, which represents some of those on the list seized by the Information Commissioner's Office [ICO] from the Consulting Association in 2009.
The news emerged as Dave Smith, a blacklisted former construction worker, told the Scottish Affairs Select Committee in the Commons on Tuesday (12 June) that blacklisting in the industry was as serious as the phone-hacking scandal and that there was reason to believe that it was continuing.
The GMB, which represents more than 600,000 members in the UK, said it had so far identified 12 members to be part of the planned High Court claim. It is attempting to uncover further individuals affected.
A GMB spokesperson said: "We are running a separate legal action and want to apply pressure from a different angle.
"It is all recorded on the files [obtained from the ICO] that [the blacklist] is the reason they were blocked. Some of these people were skilled engineers and surveyors as well as workers."
The union published a report on the issue at its annual conference in Brighton this week and has also written to MPs asking them to investigate allegations of police involvement in blacklisting.
A spokesperson for Balfour Beatty said the firm could not comment on current legal activity and said the Commons hearing referred to "a historic issue within the industry" which it did not condone.
A spokesperson for Sir Robert McAlpine said neither the company nor its employees had "ever operated a blacklist".
"While, like many other major construction firms, the company accessed information from the Consulting Association from time to time, it never denied employment to anyone - or dismissed anyone - on the basis of any information received," she added.
A spokesperson for Carillion said it could not comment on "threatened legal proceedings […] which will be addressed and defended in any such proceedings".