Energy secretary Ed Davey approves 55,000 page EDF planning submission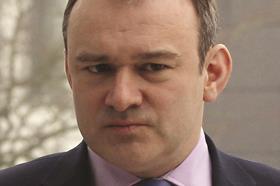 The government has approved plans for a new nuclear power plant at Hinkley Point C in Somerset.
Energy minister Ed Davey announced the decision in parliament today, after approving the 55,000 page submission from client EDF.
Building revealed this morning that behind the scenes the government is also frantically trying to broker a funding deal for the plant so that it can be announced in tomorrow's Budget.
Davey said: "The planning decision to give consent to Hinkley Point follows a rigorous examination from the Planning Inspectorate, and detailed analysis within my department.
"I am confident that the planning decision I have made is robust, evidence-based, compatible with the Energy National Policy Statements and is in the best interests of the country.
"It's vital to get investment in new infrastructure to get the economy moving. Low carbon energy projects will bring major investment, supporting jobs and driving growth.
"This planned project adds to a number of new energy projects consented since May 2010, including wind farms and biomass and gas-fired power stations.
"This planned new nuclear power station in Somerset will generate vast amounts of clean energy and enhance our energy security. It will benefit the local economy, through direct employment, the supply chain and the use of local services."
Union Unite welcomed the news, which was widely expected, saying it was a "massive boost" for jobs.
Unite national officer for energy Kevin Coyne said: "This is a significant milestone towards meeting the UK's low carbon energy needs and the project will be a massive boost for jobs.
"The construction of Hinkley Point C will create thousands of skilled construction jobs for the next five years, and around 800 jobs in the operation of the power station over the next 60 years.
"Nuclear is a crucial part of a balanced energy policy, to stop the lights going out. We hope Hinkley Point C is just the first in a fleet of new nuclear power stations which would also create jobs in construction for the next 20 years."