Budget: Plans for revision of part L of the building regulations due by May 2013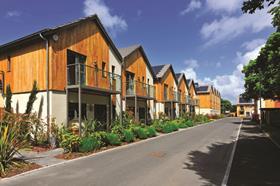 The government has reaffirmed its committed to making all new homes zero carbon homes from 2016 in the Budget announcement today.
It also said it would give its "detailed response" to last year's consultation on changes to part L of the building regulations, which governs energy efficiency, by May 2013.
Both commitments are victories for Building's Green for Growth campaign, with Building calling for certainty on zero carbon homes and part L in a letter to the Chancellor last week.
Earlier this month building regulations minister Don Foster stalled on giving his commitment to the zero carbon homes target, which was put in place by the Labour government, after fears had swept the industry that it was about to be dropped.
But in today's Budget documents the government committed to the target, giving certainty to the industry.
The document said: "The government is committed to implementing 'zero carbon homes' from 2016… The government will consult on next steps, including on the means of delivering allowable solutions, by summer recess."
Paul King, chief executive of the UK Green Building Council, said the zero carbon homes commitment was "one shining green beacon in today's budget".
He added: "The fact that it's there is welcome and important, but it looks very solitary in a Budget otherwise devoid of support for green growth, with even the government's flagship Green Deal failing to get a look in."
David Symons, UK director at environmental consultant WSP, said the budget was a "missed opportunity" to kick start the "underfunded" Green Deal.
He added: "Support to energy reducing jobs would have helped massively expand the 60,000 registered plumbers and builders who are ready to start work right now, and can be contrasted to the 5000 jobs which shale gas in Lancashire will create by 2020, and which benefited from today's tax breaks."
Andrew Mellor, environmental partner at PRP Archtiects, said it was good to see the government's commitment but detailed plans were needed to provide real certainty to the industry.
He said: "We have known for a few years that 2016 will be zero carbon but we need a detailed route map and to know what changes will be made to building regulations in 2013 if any".