Multi-million pound flood defences fail as storm Desmond hits North of England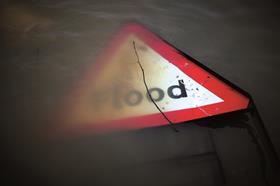 Criticism has been levelled at the government after multi-million pound flood defences - built following the floods in 2009 - failed to protect homes in Cumbria from the impact of storm Desmond.
A major incident has been declared following a weekend that saw the storm deposit approximately 340mm of rain in 24 hours on the Lake District and the loss of power to 55,000 homes in Lancaster. More than 2,000 homes in Cumbria are so far known to have been affected by flooding.
Speaking to the BBC in Carlisle, floods minister Rory Stewart said: "When you face, as we have now, probably the highest rainfall we have ever had in the United Kingdom, it is going to come over the top of defences.
"But what the defences do is they slow it down, it gives us more time, its given people here more time to evacuate safely, and it's meant that there's less water on the streets than there would have been if we hadn't had that defence in place."
Stewart added that the governement will look again at models used for planning for floods.
In the recent Spending Review George Osborne promised £2.3bn of investment in flood defence projects to protect 300,000 homes by 2021 and protected flood maintenance funding.