Construction has the most self-employed income support scheme claims
The government has doubled the amount of financial support given to self-employed workers during November as the industry braces for a second national lockdown.
Chancellor Rishi Sunak announced that self-employed workers would be able to claim grants worth up to 80% of trading profits this month, two weeks after he reduced the support offered by the scheme to 40%.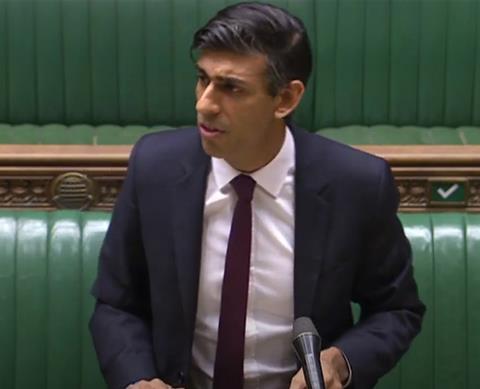 It comes three days before England is set to be plunged back into a national lockdown lasting at least until 2 December, although the government has encouraged construction sites to stay open through the restrictions.
The boosted support offered in the third tranche of the self-employed income support scheme (SEISS) brings it up to the level of the first two tranches, which both offered 80% of profits. Sunak had announced on 22 October that the third tranche, which will run from this month to January, would only offer 40% of profits.
The construction industry is the sector with the highest proportion of claims for the SEISS, and has the highest number of eligible individuals.
HMRC data shows that the sector accounted for more than 40% of all claims to both tranches of the SEISS, receiving £5.5bn of the £13.5bn given by the government to self-employed workers since the scheme opened on 13 May.
Construction workers made 772,000 claims for the second tranche of SEISS since it began in August, more than the next five largest sectors combined.
Those working in construction accounted for the highest proportion of claims in every country and region of the UK. London has seen the highest share, with 40% of claims for the scheme in the capital coming from construction workers.
The claims of those working in construction also had the second highest average value at £3,100 per claimant, behind financial and insurance activities on £3,600 per claimant.
The upgrading of support for the self-employed follows the prime minister's announcement on Saturday that the government's furlough scheme would be extended into December to support firms hit by the impending lockdown.
The scheme, which saw £37.5bn shelled out by the government for the period up to 31 August, had been due to end on 31 October, the same day as Johnson's announcement.