Package of measures to include relaxation of planning rules on home extensions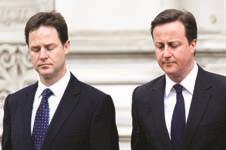 The government is to extend the FirstBuy initiative for shared equity mortgages for home-buyers as part of a wide-ranging bid to kick-start housebuilding to be launched by prime minister David Cameron and deputy prime minister Nick Clegg today.
The government will also consult on temporarily extending planning rules to allow home-owners and businesses to build much larger extensions to existing properties without receiving planning permission.
The government will reveal later this morning how much money it will put in to FirstBuy, though it has already said it will be enough to help the sale of 16,500 homes. FirstBuy requires the government and housebuilders to jointly take a 20% share in new homes being built in order to allow a first-time buyer to buy with just a 5% deposit.
The extension of FirstBuy is a major victory for the listed housebuilders and the Home Builders' Federation, which had lobbied hard for more money for a renewal of the £400m scheme.
The government said it proposed relaxation of planning rules would help "tens of thousands of families and businesses" and would be part of a package of measures designed to "support business, developers and first-time buyers, while slashing unnecessary red tape."
The extension, to so-called "permitted development rights", will allow home-owners to build and extension on the back of their property of up to 6-8m – depending upon the type of property – without gaining full planning permission.
Shops will be able to extend their premises by up to 100 sq m, with industrial premises able to expand by up to 200 sq m. Both will be allowed to develop up to the boundary of the premises, all without gaining planning permission.
The capability to develop without gaining planning permission is not new, but the measures extend existing allowances, and would be designed to help small- and medium-sized builders.
The government is also expected to announce plans to underwrite loans to housing associations to build new affordable homes, while relaxing the requirement upon home builders to develop affordable houses in order to make sites more economically viable.
Reports yesterday said the government is also looking to beef up investment in social housing by taking underspend from other departments.
Speaking to Sky News, Nick Clegg said the adjustments to the planning laws were designed to make house building easier.
"I don't think everybody is [building an extension on their conservatory] but I suspect some people are and that is one measure amongst a barrage of measures that we are announcing today.
"I guess the biggest announcement were making today, is that the Government is saying: look, to registered social landlords and to private house builders, look: 'If you're finding it too expensive to raise money yourself to put shovels in the ground to employ people on construction sites [and] build homes for private rent and to build affordable homes, we're going to make it cheaper for you to do so."
In a statement David Cameron said: ""That starts with getting the planners off our backs. Getting behind the businesses that have the ambition to expand. And meeting the aspirations of families that want to buy or improve a home."
Peter Bolton King, RICS global residential director, said: "What the market needs now is investment, not piecemeal planning reform. While we encourage the government's attempt to stimulate development through small scale projects, this will not provide the required impetus for growth.
"Families and businesses looking to extend their properties will not deliver the required new homes to solve the housing crisis."
Reaction to the government's plans:
David Orr, chief executive of the National Housing Federation, said: "This stimulus package is a major step forward. The Government's £10 billion financial guarantees, together with the extra £300 million for affordable and empty homes, has the potential to transform the housing market.
"It will provide homes for some of the millions of families on waiting lists, create jobs and give the UK economy a shot in the arm with a speed and effectiveness few industries can match. The only piece of the puzzle missing from this announcement is rapid access to public land.
"Government departments are sitting on parcels of previously developed public land equivalent of two cities the size of Leicester - this land needs to be made available so that Housing Associations can get cracking, build more homes at scale, boost the supply of affordable homes and create local jobs."
Faraz Baber, Director of Planning at London First, said: "The package of measures to reinvigorate the housing delivery is to be welcomed but unless government resolve the problems that are currently surrounding planning taxes imposed on development, housing delivery will continue to be stifled as schemes remain financially unviable to proceed."
More to follow …