PM also considering tax on building products firms to fund cladding remediation
The government is looking at new rules to exclude contractors that have engaged in "gross professional negligence" from public sector projects in the wake of shocking revelations from the Grenfell Inquiry, Boris Johnson has announced.
The prime minister said he would also look at proposals for a new tax on the building products industry to partly pay for the cost of cladding remediation on buildings containing dangerous cladding materials.
Johnson made the announcements during this afternoon's session of prime minister's questions in an answer to a question from Kensington MP Felicity Buchan, in whose constituency the ruined Grenfell Tower is located.
Buchan said that she had been "deeply troubled by what is coming out of the Grenfell Inquiry with regard to the building products industry".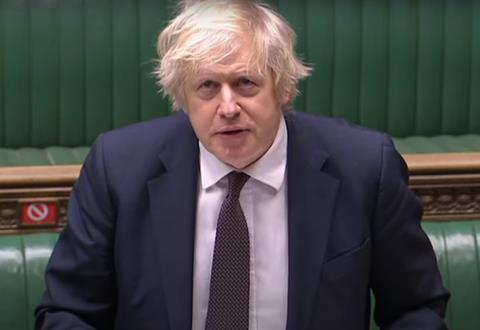 She asked if Johnson agreed that contractors who have "behaved improperly" should not be used in future for government contracts, and if the prime minister would "consider a tax on the building products industry in the same way as we have done on the residential property sector as a way for partly paying for cladding remediation".
Johnson replied: "I will study her proposal for a new tax on building materials and I know [the chancellor] will want to think about that kind of idea, but we are looking at new rules to exclude contractors from government business where gross professional negligence has been shown."
Reacting to the proposed tax, Construction Products Association economics director Noble Francis said that while new taxes are "good to get nice headlines", he stressed that what is essential is that culture and best practice changes throughout the whole construction supply chain.
The first phase of the ongoing inquiry into the catastrophic fire that claimed 72 lives in June 2017 found the ACM panels supplied by cladding firm Arconic were the "primary cause" of the rapid spread of flames up the side of the tower.
It also concluded the insulation products in the cladding system manufactured by Celotex and Kingspan "more likely than not" contributed to the conflagration.
Shocking revelations have emerged in recent months as the second phase of the inquiry has turned its attention to the actions of building products firms in selling combustible materials to contractors working on the tower's refurbishment project.
Contractors that worked on the project have also come under significant scrutiny, with a technical officer telling a hearing last week that work done to install fire-stopping cavity barriers within the tower's cladding system was "probably of the poorest standard I've ever seen".
The government said last month that it was drawing up plans for a £2bn new tax on developers to help fund the cladding remediation programme.