Nearly 80 schemes set to benefit from cash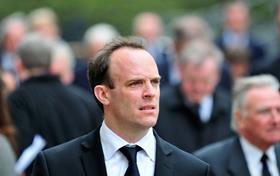 The government has promised £45m in funding to help kickstart work to build thousands of new homes in England.
Housing minister Dominic Raab said 79 schemes has been successful with their bids with three schemes – in Bristol, North Devon and Teignbridge, Devon ­– receiving the biggest handouts of more than £2m each.
The £45m will be distributed to 41 local authorities with all work under the initiative, called the Land Release Fund, completed by March 2020.
The fund was oversubscribed with more than £100m worth of bids received for 143 projects.
Raab (pictured) said the funding will support building more than 7,000 homes on council owned land and added: "It's part of our strategy to build the homes Britain needs and carry local communities with us."
The schemes that will benefit stretch from Plymouth on the south-west coast through to Newcastle in the North-east.
Local authorities with multiple successful bids include Brighton & Hove, Bristol, Mendip and Plymouth.
Schemes benefitting include one at Poulton-Le-Fylde, where £1.7m worth civils works will be carried out ahead of work to build 330 homes at a site in the Lancashire town while a scheme to knock down a leisure centre in the middle of Worcester, where 50 homes are planned, is being handed £750,000 for demolition and asbestos removal works.
The Land Release Fund is being administered through a partnership with the Local Government Association and Cabinet Office's One Public Estate programme.
Earlier this month, the government said up to 200,000 new homes were set to get off the ground after it confirmed £866 million investment in local housing projects.
Housing Secretary Sajid Javid and chancellor Philip Hammond said 133 council-led projects across the country will receive funding from its £5bn Housing Infrastructure Fund to support local work that will make housing developments viable.
Meanwhile, a study by the Local Government Association has revealed more than 400,000 homes with planning permission have yet to be built.
In 2015/16, the total number of unimplemented planning permissions in England and Wales was 365,146, rising to 423,544 in 2016/17.