Raft of measures announced backed by £49m of new public funding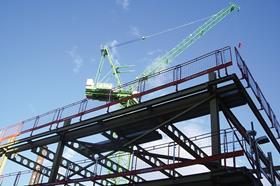 The government has launched a raft of measures to attract talent into the engineering professions, backed by £49m of new public funding.
The measures include the launch of a £30m training fund to address engineering skills shortages, which employers can bid for from next year.
The funding will promote all the engineering professions, including construction, manufacturing, energy and computers.
Business secretary Vince Cable said it was vital for employers and education professionals to get involved in the initiatives to "inspire the next generation of engineers."
The funding was announced as the government's chief scientific adviser to the Department for Business, Innovation and Skills John Perkins published a report on skills shortages in engineering.
Professor Perkins, a former dean of Manchester University's faculty of engineering and physical sciences, found the UK has "a substantial demand for engineers" but already relies on "inward migration" to fill skilled jobs in sectors such as oil and gas extraction, aerospace, and computer, electronic and optical engineering.
His recommendations urge action to "get the right messages to young people" - particularly girls, to ensure vocational training is high quality and high status and that "higher education continues to deliver".
Perkins found problems started at school, where too few pupils were taking maths and science after 16, especially physics, but said the government's education reforms could help tackle this.
Other measures announced by the government today include a £250,000 investment into independent schools' outreach programme 'Tomorrow's Engineers' and £40,000 of funding to support the Daphne Jackson Trust fellowship which supports people returning to professional engineering jobs after a career break.
The National Careers Service website will also be revamped to greater promote engineering careers.
Cable added: "Engineering has a vital role to play in the future of UK industry. It is important that we act now to ensure businesses have access to the skills they require to enable them to grow."
Institution of Civil Engineers (ICE) director general, Nick Baveystock, said: "This important review provides a comprehensive and compelling picture of the challenges we face in ensuring a future stream of engineering talent at all levels, and crucially, sets out realistic steps to address them.
"We – the engineering profession, with industry and academia - will achieve much more and carry far greater impact if we coordinate and combine our efforts.
"There is much we already do collaboratively, but we must do more and this is a call for action that must be heeded."