Review will look to rationalise building standards in bid to simplify regulations for industry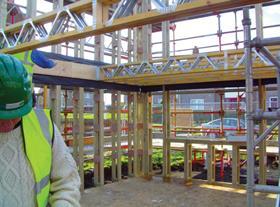 The government has launched a wide-ranging review of building regulations in a bid to cut regulation and boost the construction industry.
Terms of reference for the review, seen by the Guardian newspaper, state it should be "rationalising the entire framework of building regulations and national and local housing standards", with the overall goal to "significantly" cut back on the number of regulations.
According to the Guardian, the review, being undertaken by the Department for Communities and Local Government (DCLG), includes a a special four-man "challenge panel" that will have "free rein, unconstrained" to suggest ways of cutting regulations that would "deliver demonstrable deregulation to make homebuilding easier". It adds that the panel "will not be constrained by previous or existing policy".
The DCLG said the review, dubbed the housing standards review, would only apply to home building standards.
A DCLG spokesman said: "The government is determined to support developers and councils to get on with the job of building the high-quality new homes the country needs.
"The current system of overlapping different standards is complex and confusing to local residents and developers. This will make way for a simpler set of housing standards that ensure buildings are still made to exacting standards."
However, the UK Green Building Council (UKGBC) warned that the "no holds barred, wide-ranging shake-up" risked hindering housebuilding efforts, rather than stimulating the sector by creating more uncertainty for housebuilders.
The UKGBC added the review "will almost certainly also result in poorer quality homes built to lower environmental and social standards".
UKGBC said the review would look at all regulations and standards associated with the quality of housing, including issues such as:
Structural safety
Fire safety
Toxic substances
Conservation of fuel and power
Access and facilities for people with disabilities
Electrical safety
UKGBC added that the review also includes an objective to "deliver a mechanism, legislative or otherwise to ensure that local authorities cannot layer on any additional rules and standards through the planning system, beyond those left at the end of the review".
Paul King, UKGBC chief executive said: "This review has gone from being a sensible look at rationalizing and updating voluntary standards for house building, to a full blown de-regulation frenzy.
"Building regulations may not set the pulse racing, but they do some pretty important things - prevent houses from falling down, catching fire and wasting vast amounts of energy.
"Housebuilders have not been calling for a bonfire of building regulations, what they really need is mortgage finance and institutional investment to get the industry moving and policy clarity to deliver the homes we urgently need.
"This new upheaval, following hot on the heels of the biggest shake up of the planning system in living memory, instead creates a fog of uncertainty, and is much more likely to act as a brake on housing delivery, than an accelerator."