Government £200m infrastructure loan paves way for massive 3,500-home Canary Wharf extension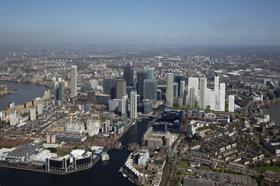 Work is set to start on the 4.9 million sq ft extension to Canary Wharf known as Wood Wharf, after the government agreed a £200m infrastructure loan for the scheme.
The Wood Wharf scheme will include more than 3,500 homes, including 600 affordable units, as well as 2.8 million sq ft of lower-rise offices, shops and community facilities.
The scheme, which has been planned for over a decade, has received a £200m loan from the government's £1bn Large Sites Infrastructure Fund to improve road and pedestrian access and create a network of parks and public squares.
Andy Rose, chief executive at the Homes and Communities Agency, said: "The £200m contribution to this project will accelerate the infrastructure needed to boost this vital centre for business activity by unlocking land to establish Canary Wharf as a residential location, building the homes that London needs to supply viable housing developments."
The Wood Wharf proposals have already received planning permission, so work will be able to start within months.