Boris Johnson expected to make announcement on new rail policy at this week's conference
The government could announce the scrapping of HS2's £40bn eastern leg within days, according to reports.
Boris Johnson is said to be considering an east-west rail link between Manchester and Leeds, known as Northern Powerhouse Rail or HS3, as a key offering at this week's Conservative party conference.
Northern 'red wall' MPs have been lobbying for the alternative line as opposed to the eastern leg of HS2 between Birmingham and Leeds, saying it would contribute more to levelling up the north, according to politics website Politico.
Transport secretary Grant Shapps added to the rumours, telling the Financial Times yesterday that ministers should not "blindly follow some plan invented 15 to 20 years ago which no longer benefits people".
Shapps hinted that he now favours improving the links between northern cities and another plan to increase connectivity in the Midlands known as the Midlands Rail Hub.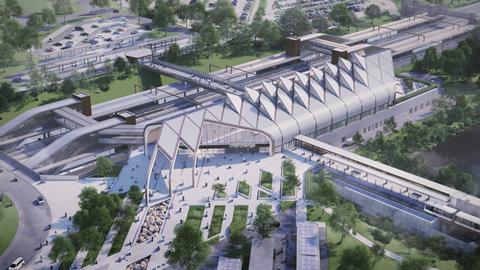 Arguing that the two regional links had not been invented when HS2 was first designed, he said: "We need to work these things together. Are we doing things in the best way and in the right order?"
He added that ministers had to "go back and ask further questions" about completing HS2 as had been originally intended.
His intervention is the closest that the government has come to confirming speculation that the £100bn railway's eastern leg will be scrapped. The route has been in doubt since a report by the National Infrastructure Commision last year proposed delaying it in favour of regional links between cities in northern England and the Midlands.
Andy Street, the West Midlands mayor, said in July that the leg was "not needed" and called on the government to focus on the Midlands Rail Hub instead.
Street, who had previously been one of the most vocal supporters of the whole HS2 project, said that the business case for regional links was "substantially better" than for completing HS2 to Leeds.
Politico has reported that the Integrated Rail Plan, which will set out the government's proposals for railway upgrades, will be published on October 26.