Plan includes grants to help building firms shift from fossil fuels
Construction firms could be given government grants to persuade them to use hydrogen instead of fossil fuels under new plans outlined today.
Ministers have earmarked £105m in funding to support polluting industries to eradicate carbon-intensive fuels such as red diesel from their operations.
The government's long-awaited hydrogen strategy, published today, sets out how the gas could be used for up to 35% of UK energy consumption by 2050.
The UK hydrogen economy could be worth £900m by 2030 and up to £13bn by 2050, according to the Department for Business, Energy and Industrial Strategy (BEIS).
It says hydrogen could play an "important role" in decarbonising energy-intensive industries, including those that use HGV lorries, by the end of this decade.
The new funding will include £55m to support the development and trials of solutions to help industries switch to low carbon fuels such as hydrogen through an Industrial Fuel Switching Competition.
It will also include £40m in grant funding for the development of low carbon alternatives to red diesel, which is used mainly for heavy vehicles such as bulldozers and produces nearly 14 million tonnes of carbon each year.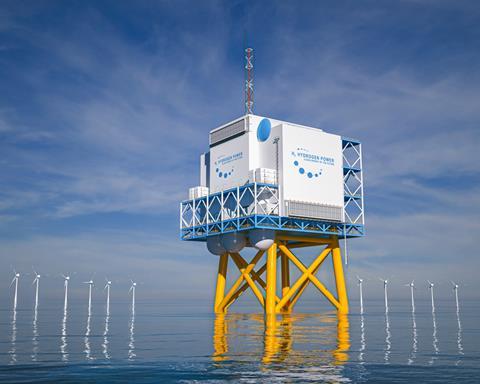 Further funding through a £10m Industrial Energy Efficiency Accelerator will be offered to clean technology developers to work with industrial sites to install, test and prove solutions for reducing energy and resource consumption in UK industries.
The government is also consulting on the design of the already announced £240m Net Zero Hydrogen Fund, which will aim to support the deployment of UK hydrogen production plants.
Business secretary Kwasi Kwarteng said the publication of the strategy "marks the start of the UK's hydrogen revolution".
"This home-grown clean energy source has the potential to transform the way we power our lives and will be essential to tackling climate change and reaching Net Zero.
"With the potential to provide a third of the UK's energy in the future, our strategy positions the UK as first in the global race to ramp up hydrogen technology and seize the thousands of jobs and private investment that come with it."
Construction minister Anne-Marie Trevelyan said the strategy sent a strong global signal that the UK is committing to hydrogen as an alternative to fossil fuels.
She said a thriving hydrogen economy could deliver hundreds of thousands of high-quality green jobs, help millions of homes transition to green energy, support key industrial heartlands to move away from fossil fuels and bring in significant investment.
The government is proposing to help the hydrogen economy grow by using a financing mechanism based on one already used to incentivise the construction of offshore wind farms.
It would see hydrogen producers given payments that make up the difference between their costs and the price at which they want to sell, protecting them from volatile wholesale prices.
But Ground Source Heat Pump Association chair Laura Bishop said that while she welcomed ambitions to develop a UK hydrogen economy, she doubted whether the plan was achievable in the time frame given.
"Heating people's homes by using green hydrogen is certainly an option – albeit a costly one – but is highly optimistic given the short time frame that we have to address net zero and the climate emergency," she said.
> Read more: Infrastructure – our hydrogen future
Ramboll UK energy market director John Mullen also raised doubts over ministers' claims that hydrogen could account for more than one-third of UK energy usage by 2050, suggesting 5% to 10% was more probable.
And Mullen criticised the plan for its support of blue hydrogen, a form of the gas that produces carbon during production which would have to be captured and buried.
He said: "Blue hydrogen and carbon capture are incredibly inefficient processes at present, and the only justification for their use is to allow for the transition to a green hydrogen world.
"Blue hydrogen could be used to support business cases to implement new hydrogen infrastructure; however, the government needs to put a cap on the greenhouse gases produced and place a deadline for the end of all blue hydrogen production in the next 10 to 15 years."
The hydrogen strategy is one of a series of strategies the UK government is publishing ahead of the UN COP26 climate summit to be held in Glasgow in November.
An Industrial Decarbonisation Strategy, Transport Decarbonisation Strategy and North Sea Transition Deal have already been published, while the government has confirmed that its Heat and Buildings and Net Zero Strategies will be published this year.