Research reveals poor industry grasp of older buildings' response to energy efficiency measures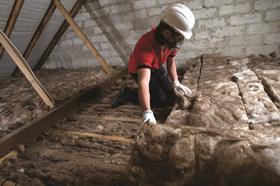 The government is set to rewrite the approach to retrofitting older buildings after a report found a lack of understanding in the industry of how they respond to energy efficiency measures.
Research by the Sustainable Traditional Buildings Alliance (STBA) for the Department of Energy and Climate Change (DECC) called for the process to be overhauled to maximise the effectiveness of sustainability improvements to pre-1919 buildings, which account for a quarter of the UK's housing stock.
The report (attached right) comes ahead of the launch of the Green Deal, the government's flagship scheme designed to promote the retrofit of existing homes.
The report found that a lack of understanding of how traditional buildings perform following energy efficiency measures produced unexpected outcomes.
It said traditional buildings often performed much better in terms of heat loss through fabric than stated in standard models and assessment methods.
It also found a significant lack of available research in areas such as traditional building energy performance, traditional materials data, occupant behaviour in older buildings, overheating, indoor air quality and ventilation rates.
These gaps make predicting the impact of retrofit programmes almost impossible, and may miss the opportunity for more effective measures, says the report.
Neil May, project lead for STBA, said: "Retrofitting the UK's older buildings is not a one-size-fits-all. There are many gaps in our understanding and many complex interactions to take into account.
"Our findings reveal that if six million traditional homes are to be radically improved in their energy performance, we need a more informed, learning-based process that acknowledges the uncertainties and engages all parts of the supply chain as well as building users and owners."
The STBA is working with DECC to develop an interactive guidance tool for the industry that takes in all parts and participants in the retrofit process. Cadw, the historic environment service of the Welsh government, will trial the tool.