Funds will be used to handle issues such as land contamination and infrastructure requirements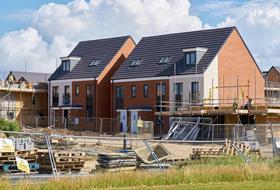 The government has unveiled almost £2bn of funding which it says will speed up the delivery of housing across the country.
In an announcement made this morning, housing secretary James Brokenshire said the money would be used to help deal with issues such as land contamination, infrastructure requirements and complex land ownership.
Brokenshire said: "We need to act on a number of fronts to build the homes this country needs. The availability of this investment will help us intervene in the sort of sites that aren't yet ready to build on, or where developers have been put off."
The government reavealed it would intervene by providing two streams of investment – the Land Assembly Fund and the Small Sites Fund – which will be used by Homes England.
The £1.3bn Land Assembly Fund, will be used to acquire land needing work and get it ready for the market, making it less risky for developers to invest in and start building.
Outside of London this work will be carried out by Homes England, while the Greater London Authority will have access to targeted funding through the Land Assembly Fund and Small Sites Fund to deliver additional homes in the capital
For public land owners or local authorities that are struggling to get building on land in their area, the £630m Small Sites Fund will provide grant funding to speed up getting the right infrastructure in place to support home building on stalled small sites to provide the homes their communities need.