Firms failing to remove risky material face fines, legal sanctions and losing out on government contracts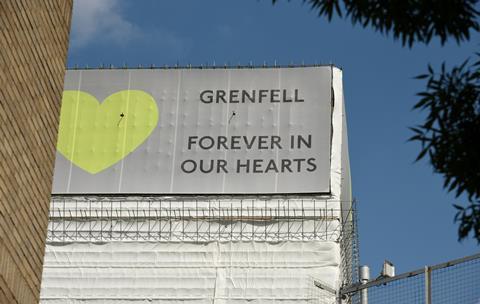 The government has warned owners and developers of buildings covered in unsafe ACM cladding, as used on Grenfell Tower, to remove it or face legal action, hefty fines and the risk of being blacklisted from government contracts.
The communities secretary James Brokenshire has written to around 60 developers and building owners – including Lendlease, Paddington Development, GLA Land & Property and Pemberstone – spelling out what they need to do in order to avoid financial penalties.
It is more than 15 months since the fatal fire in west London which claimed the lives of 72 people, and the government's patience towards firms which have installed similar cladding on other buildings – nearly 300 in total – appears to be running out.
Brokenshire said: "There is a moral imperative for private sector landlords to do the right thing and remove unsafe [ACM] cladding quickly, and not leave leaseholders to cover the cost.
"I am also warning those who are not acting quickly enough to put in plans to remove dangerous cladding to take action now, or face enforcement action from their council."
As well as the risk of a fine, Brokenshire said firms may face restriction of access to other government schemes if they did not comply. Ministers would not rule anything out if building owners continue to refuse to replace the cladding or try to force leaseholders to pay, he added.
The government did not outline the scale of possible fines, nor a timescale by which it expects remedial work to be done.
But Brokenshire commended those developers who had coughed up cash to remove and replace potentially life-threatening cladding, including Barratt Developments, Mace, Legal & General and Taylor Wimpey, who had agreed to cover all costs of the work.
Barratt recently set aside £4m to replace unsafe cladding on a block it built in Croydon, after earlier indicating it would cost £2m, while Taylor Wimpey is understood to have lined up £30m to remove similar material, largely from a development in Scotland.