Government's buying arm aims to award new framework next year, after scrapping existing procurement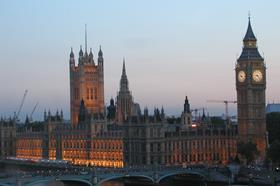 The government will aim to reprocure the ditched £750m UK SBS consultants framework in time for it to be awarded next year, Building has learned.
The government's buying arm, the Crown Commercial Service (CCS), began briefing both winners and losers from the 15-month process to procure the four-year Project Management and Full Design Team Services (PMFDTS) framework this week, after the framework was cancelled last Friday.
Consultant sources told Building the government will aim to procure a replacement framework covering consultancy services "for the full property asset cycle" in time for it to be awarded next year, "after taking account of bidders' feedback".
The PMFDTS framework would have covered a raft of disciplines - including project management, cost consultancy, architecture and engineering - for use by all public sector bodies.
The troubled framework had been due to go live in June 2013, but was dogged by delays and was eventually awarded in June this year to more than a dozen firms, only to be immediately challenged in a High Court action by one of the losing bidders, Turner & Townsend (T&T).
T&T's legal case was "stayed" last month, but the government still decided to ditch the framework last week, citing the fact the CCS is moving into direct procurement of services and bidder feedback as reasons for the decision.
Building understands the CCS will take the lead role in the reprocurement of the framework, although UK SBS will retain a role in the process.
Consultants expressed scepticism that the framework could be reprocured in time to be awarded next year.
Aecom's head of government and public sector John Hicks told Building he was concerned the CCS lacked the credibility to procure the framework quickly in competition with other public bodies like HS2, the NHS and the MoD.
Hicks said: "A public procuring body must have credibility to procure in an upward market like this. You need credibility first before even considering procuring anything that looks like the old framework."
Several consultants told Building they were considering pursuing compensation for bidding costs.
Ann Bentley, chair of consultant Rider Levett Bucknall, said the firm would consider taking action to recoup costs, adding: "The bidding costs are an enormous amount of moneyfor the sector to write off.
"Some of this [procurement] was just poor, really poor. Someone ought to be held accountable for that … The whole construction sector invested around £5m into this to no effect."