Details emerge of 'son of PFI', with reforms and rebranding to PF2 to be unveiled by chancellor George Osborne tomorrow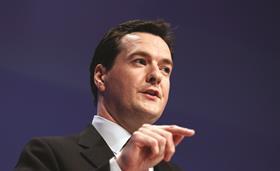 The government will take a stake in most future PFI projects under the revamped system of private finance, to be branded PF2, due to be unveiled in tomorrow's autumn statement.
Chancellor George Osborne is set to publish a policy document setting out the standard contract forms for PFI alongside his autumn statement, due at 12.30 tomorrow. The new system is expected also to put an 18-month time limit on PFI bidding processes, and force PF2 project companies to publish their revenues and profits.
The government is set to trial the new system using the £1.75bn priority schools programme, but the Ministry of Defence and Department of Health are also understood to be looking at procuring schemes under PF2.
According to government sources, the new contract forms will see the government to take stakes in the "majority" of PFI schemes in order to ensure any excess profits are shared with the taxpayer. The government equity stakes will be managed by a central unit in Treasury, and will see the government take a place on the board of project companies.
The government is also expected to attempt to limit the chance of windfall profits to private sector firms, generated often in the past upon the re-financing project vehicles after the construction phase, by shaking up the structure of the finance of the project vehicles. Government sources said the vehicles would have a lower volume of debt funding and a greater number of equity stakeholders, and that this would act as a brake upon super-profits.
Osborne is expected to say that, where appropriate, project vehicles will run "equity competitions" following the signing of PFI deals and the completion of design and planning phases, in order to bring in more equity holders during the construction phase of PFI schemes.
The full details are due to be made available tomorrow alongside Osborne's autumn statement, when a step by step guide to procuring under the new system will also be launched. In addition the government is set also to publish the responses to its call for evidence on PFI.
As expected, Osborne is likely to confirm that soft-FM services will in future be largely excluded from private finance deals. In addition he will impose an 18-month time limit on project procurement, designed to limit bid costs. Procuring bodies are likely in future to have their PF2 funding pulled if they take more than that time to get from tender to preferred bidder stage.
Contractors are expected to be able to view a "project approvals tracker" on the Treasury website to let them know the status of PF2 projects.
In terms of additional transparency, one of the government's major concerns over the current system of PFI, Osborne is expected to say that project companies will be forced to disclose their profits, and that the Treasury will publish a full list of public PFI liabilities. However, it is not thought they will be subject to freedom of information legislation.
It is yet to be determined by the Office of National Statistics whether the new companies will be "off balance sheet" in terms of the public sector debt. However, the Treasury is expected to set up a working party in order to devise a level for a cap on total off balance sheet charges.
Reaction to PF2
Jon Hart, partner at international law firm Pinsent Masons, said: "PF2 represents a big step forward in the UK for using a joint venture company for project finance delivery of new infrastructure.
"This kind of 'institutional PPP' model is common in certain European jurisdictions, but here in the UK may require a significant change in approach for private companies, which may be used to washing dirty linen behind closed doors. As such, this could be a potential further obstacle for attracting long term debt from those few banks still active in the market.
"If PF2 can help detoxify the PFI brand then that is to be welcomed. It would not appear, in the short term at least, to provide any greater likelihood for getting the wheels turning in the hard-pressed infrastructure sector.
"Much of the focus is on whether PF2 is a fair deal for the taxpayer, but what is perhaps being overlooked is whether PF2 will encourage investment in infrastructure in a way that benefits society and the economy. On its own, PF2 will not.
"The project finance lending market in the UK is severely constrained but the problem is not necessarily an absence of funding or willing investors. It remains to be seen how much the PF2 model might encourage engagement with pension funds or other institutional investors that have hitherto been reluctant to take on greenfield project development risk.
"The absence of a credible pipeline of shovel-ready projects to invest in is much more serious. In that sense, without more engagement on bringing projects forward, PF2 could be in danger of being a theoretical curiosity."
Gary McCarthy, director at leading consultancy WSP, said: "It was always going to be critical for any new model to have clear Government commitment to restore confidence in the industry. The detail announced today about PF2 certainly goes some way to address this but there are several questions remaining - will setting a deadline on procurement timeframes lead to poor negotiations?
"Will the public sector equity stake be supported with resource for long term asset management, a crucial ingredient for project performance and protecting the investment? Ultimately what everyone will want to know is, will this really deliver best value for the taxpayer? We look forward to seeing more detail tomorrow that can hopefully answer some of these questions."
Richard Threlfall, UK head of infrastructure, building & construction at KPMG, said: "It is good that we finally have the PFI review conclusions – better late than never. On the substance of the PF2 announcement, it is decidedly mixed. Some elements of the new model are welcome, some are uncontroversial and others in my opinion are decidedly dubious and hopefully will quietly evaporate in the reality of implementation.
"What's welcome is greater transparency and potentially public sector equity. On the latter, the caveat depends on how it is deployed. If it puts experienced public sector representatives on the board, and the public sector investing cash and incentivised to see the business perform, then it is a good thing.
"Uncontroversial, from most perspectives, is taking out the soft services from the contracts. The important thing is that we still have long-term contracts where the private sector is incentivised to build and maintain an asset at lowest cost over its whole life.
"And dubious? Well an 18 month "drop-dead, procurement over" is addressing the right point (procurements take far too long, and cost too much) but in the wrong way. It introduces a huge risk for both public authorities and bidders of a procurement being stopped, for reasons in some cases neither can control. Bidders should ask for their bid costs to be reimbursed every time a procurement gets canned. It is a sledgehammer that will crack the wrong nuts.
"Some of the changes appear to be born of a belief that in the world of PFI the public and private sectors are mostly out to try to outwit each other. The truth is we all benefit from good, robust deals. On the whole it looks like this might work and we can all get on now with doing deals, assuming we can find some."