Treasury plans to guarantee massive regeneration programme across Haringey, including Tottenham's new stadium project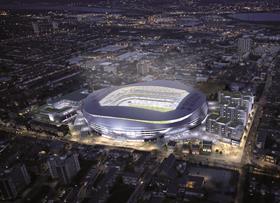 The government is planning to provide a £500m guarantee for a massive regeneration plan across the Tottenham area of London, which includes Tottenham Hotspurs' new stadium development.
The move to underwrite the Tottenham regeneration plan through the UK Guarantees scheme, revealed in documents published alongside the spending review announcement on infrastructure today, will see the government guarantee Haringey council's plans to embark on a major regeneration programme across the borough.
Haringey council said Treasury's commitment would mean the council and the Greater London Authority, in partnership with the private sector, could press ahead with financial security for its plans to transform the area, which include thousands of new homes and jobs as well as better transport links, leisure facilities and business workspace.
The council said £1bn of investment was already committed to the regeneration programme, which comprises a range of different projects across the borough, including Tottenham Hotspur's £400m stadium development plans, known as the Northumberland Development Project.
Haringey council leader Claire Kober said: "I am delighted that Haringey council's ambitious regeneration plans for Tottenham have now been given secure financial backing by the government.
"Today's £500m guarantee means we can now get on with the task of bringing up to 10,000 new high-quality homes and more than 5,000 new jobs to Tottenham with confidence, giving better opportunities to local people."
"We're well on our way to bringing change to this community, but today's announcement means we can step up and truly transform Tottenham."
The UK Guarantee for Tottenham's regeneration follows earlier guarantees to the £225m project to convert half of the Drax coal-fired power station into biomass, and a further guarantee for the Northern Line extension to Battersea Power Station.
Today Treasury secretary Danny Alexander also announced that the £10bn Hinkley nuclear power project was eligible for a "multi-billion pound" UK Guarantee, as well as the £600m Mersey gateway bridge project, which will be underwritten by up to £500m.
The UK Guarantee scheme was launched July 2012 in a bid to accelerate up to £40bn worth of major infrastructure projects.
Today Alexander also said the government would extend the life of the UK Guarantee programme by two years to 2016.