The government has announced its long-awaited changes to Part L of the building regulations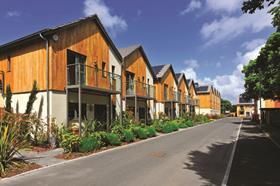 The government has finally unveiled its long-awaited changes to Part L of the building regulations, more than a year after the consultation on the proposals closed.
Under revisions announced today new build homes will have to be 6% more efficient than under current regulations.
The change falls short of the government's original proposals to tighten carbon emission standards by 8% for new build homes.
The changes will also see an uplift in efficiency standards of 9% for non-domestic buildings - a significant reduction on the 20% improvement proposed in the consultation, which closed in April last year.
As revealed by Building last week, the regulations will now come into force in April 2014, after initally being scheduled to be implemented in October 2013.
The government said the changes would deliver savings £16m of savings to businesses.
It also confirmed that it would be consult "shortly" on how to implement "allowable solutions", which enable housebuilders to meet their carbon requirements with offsite work.
In a written statement in the House of Lords (published in full below) Baroness Hanham said the plans were a "step towards our zero carbon ambitions".
She added: "They strike a balance between the government's ongoing commitments to improving energy efficiency requirements and ensuring that the overall effect of regulation upon consumers and businesses does not stifle growth."
Hanham said the government would be introducing a fabric energy efficiency target, a move which has widespread industry support.
She said the fuel factor, which relaxes carbon standards for homes that are built off the main gas grid, would remain at its current level.
The government had consulted on reducing or abolishing this measure.
She also confirmed that the government would not be pushing ahead with a quality assurance certification plans. It had proposed that builders would need to become accredited to avoid having to deliver an extra 3% carbon emissions saving on their projects, a move designed to combat the tendency for buildings to fall short of predicted savings.
But Hanham said consultation responses had expressed a need for greater understanding of the problem before regulation was introduced.
The government's response to the consultation, which closed in April 2012, has been long delayed resulting in fears from across the construction industry that the uncertainty may endanger the government's stated aim of making all new homes zero carbon from 2016.
Reaction to the Part L announcement
John Alker, director of policy and communications at UK Green Building Council said: "There can be no excuses for the length of time this has taken, but finally industry has the clarity on Part L that it craves. Although we're still waiting for details on Carbon Compliance, Allowable Solutions and the Housing Standards Review - so Government is not out of the woods yet.
"The uplift is less ambitious than any of the options originally consulted upon - even less than Government's previously 'preferred options', particularly for non-domestic buildings. However, the fact there is any uplift at all is good news - it's a victory for all those who know that industry can continue to innovate, to improve standards and reduce carbon cost-effectively.
"The delay in implementation is disappointing but sadly inevitable. It needn't knock us off course from the zero carbon targets, which it is encouraging to see Government remains committed to."
Andrew Warren, director of the Association for the Conservation of Energy, said it was "better late than never".
However, he added that there was now a "short turn around" before the introduction of zero carbon homes in 2016.
"It has been akin to the length of an elephant's pregnancy and it has produced a mouse," he said.
Paul Thompson, head of policy at the Renewable Energy Association, said the regulations showed a "failure of ambition" and "seriously undermined the government's intention to fully implement Zero Carbon standards in 2016".
He argued stronger carbon targets would have stimulated the installation of renewable energy driven heating systems.
He said: "This is a real missed opportunity, as it is often much cheaper to install renewable technologies during construction rather than retrofit.
"DCLG's strong focus on reducing costs is also undermined by its reliance on out-of-date cost data for solar photovoltaics."
John Slaughter, director of external affairs at the Home Builders Federation, said the lateness of the changes meant the industry needed to achieve a interim step towards zero carbon building in "a very short period".
He added: "Today's statement at least gives some clarity after a long period of uncertainty.
Peter Caplehorn, technical director at architect Scott Brownrigg, said the uplift in standards was less than most people thought it would be. But he added: "I think the fact that the government has made an announcement is really good because we have been suffering from the uncertainty, but it will [now] be a challenge to hit the desired zero-carbon targets."
He said it was important that the industry get speedy access to the software modelling that will monitor compliance with the regulations so it can start working on designs to meet the criteria.
Peter Halsall, chair of the Good Homes Alliance, said: "A 6% increase does not act to stimulate the innovation the industry needs."
Halsall said the industry needed to be moving into using forms of construction other than traditional ones to achieve the carbon standards which would be required from 2016.
He said that today's announcement also showed a decision on allowable solutions "keeps getting kicked into the future".
Kirk Archibald, associate director at PRP Environmental, said the lower targets were a "knee jerk reaction to political pressures".
Andrew Orriss, head of business at energy efficiency firm SIG 360, said: "With something as important as Part L, I'm firmly of the belief that it's better to get it right late than not get it right at all."
WSP sustainability director David Bownass said: "It's difficult to understand how these figures were derived as they didn't form part of the original consultation. It seems to be a lot of cost and disruption for such a small improvement over a limited period of time, and if it is intended to be a step towards 2016 zero carbon new dwellings it's so small you wouldn't need to lift your foot to get over it.
"It's now very hard to see how the construction industry will be ready to implement zero carbon standards in 2016. This would be less important to the overall UK carbon emissions if the Green Deal was delivering a step change in existing building performance."
IBA head of external affairs Anna Scott-Marshall said: "The Government's response today will provide much needed clarity to the UK construction industry which we welcome.
"These new measures however, are far less ambitious than previously proposed. We will only be a third of the way along the improvement needed for zero carbon homes by 2016. Our collective attempts to achieve affordable zero carbon homes with low energy costs for consumers will suffer greatly because housebuilders haven't been encouraged enough by government."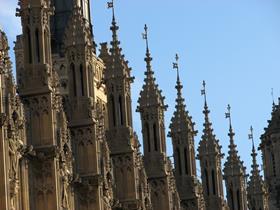 Baroness Hanham's statement in full
Building Regulations: the next step towards zero carbon
The Parliamentary Under Secretary of State (Baroness Hanham): In The Coalition: our programme for government, and thereafter my Department's published Business Plan, we said we would require continuous improvements to the energy efficiency of new buildings. I am therefore today setting out the Government's response to last year's consultation on proposed changes to Part L of the Building Regulations (Conservation of fuel and power) and announcing changes to the energy efficiency requirements in the Building Regulations for England. These changes have been overseen by my colleague, the Building Regulations Minister the Rt Hon Don Foster MP.
In doing so I am also responding to our key external partners who are seeking clarity on the issue. Strengthening these requirements takes the next step towards our zero carbon ambitions, will contribute to national emission reduction targets and help to lower people's fuel bills. The changes are projected to deliver savings of £16 million per year to business and 6.4 million tonnes of carbon di-oxide.
These changes have been developed in light of the consultation responses received, feedback from the Cabinet Office Red Tape Challenge process, consultation with the Building Regulations Advisory Committee and engagement with external partners. They strike a balance between the Government's ongoing commitments to improving energy efficiency requirements and ensuring that the overall effect of regulation upon consumers and businesses does not stifle growth. And given that industry wants clarity on the further direction of travel beyond these changes the Government intend to publish a consultation shortly on the next steps to take forward zero carbon homes, including the means of delivering allowable solutions.
These Part L changes take an important and technically meaningful step towards zero carbon homes but one that also allows Government to meet its commitments to reduce the overall regulatory burden upon home builders. For new homes, the changes deliver a 6% improvement on 2010 standards across the build mix, with compliance targets differentiated by home type to take advantage of the most cost effective savings. The existing partial relaxation of targets for homes built off the gas grid, the so called 'fuel factor', will stay at current levels to help rural home builders. Home builders will continue to have flexibility in how they meet carbon di-oxide targets however the emphasis of these changes is on getting the building fabric right and this is reinforced through the introduction of a new target for fabric energy efficiency.
Similarly I am announcing a strengthening of carbon di-oxide targets for new non-domestic buildings that delivers a 9% improvement on 2010 standards aggregated across the build mix. Again this should be seen as part of the next step towards zero carbon, achievable in most building types through cost effective fabric and services efficiency improvements. I can also confirm a strengthening of the minimum energy efficiency standards when specific building services work including air conditioning and lighting replacements are carried out in existing non-domestic buildings. The direct energy savings arising from these changes outweigh the costs thereby providing a net benefit to business.
I am also announcing today the decision not to proceed at this time with a strengthening of the minimum energy efficiency standards for extensions and replacement windows to existing homes. The Government has decided that this would be inconsistent with recent reforms to extend permitted development rights under the planning system and it is not the right time to impose additional costs on hard-working families trying to improve their homes. Although the revenues from energy savings from strengthening extension standards are currently insufficient on their own to cover the costs, technical innovation is expected to lead to improved cost effectiveness over time and subject to securing consumer buy in I have not ruled out the possibility of reforms to standards in the future.
Similarly, I can announce that the Government has decided not to proceed with regulation at this time for a new homes quality assurance process. The consultation response supported the principle of addressing discrepancy between design and as built energy performance but said that more evidence is needed to better understand where the problems lie before taking regulatory action. The Government is therefore supporting the Zero Carbon Hub led industry programme set up to look at the issues in more detail with a view to achieving industry's own target that 90% of new homes should meet, or better, their design performance from 2020. The Hub has today published a progress report providing a summary of the collaborative work carried out to date and initial findings. The next stage of the project will focus on analysis of the evidence base and report on recommended priority solutions by next Spring.
On timing, I can announce that the amending regulations will be laid before Parliament shortly and the associated Impact Assessment published at the same time. Updated statutory guidance and calculation methodologies will be published during the course of this summer with the changes coming into force on 6 April 2014 giving industry enough time to prepare.