Joint industry-government strategy commits to big improvements in cost and sustainability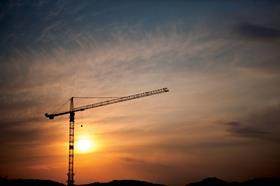 The government has today launched a wide-ranging industrial strategy for construction, designed to provide a vision by which to reform the industry over the next decade, and containing stretching ambitions on sustainability, efficiency, and international growth.
Business minister Michael Fallon and chief construction advisor Peter Hansford are launching the strategy at Building's Government Construction Summit in London today.
Hansford told Building the strategy (attached right), which calls for a halving of the time taken to build new or refurbished buildings from conception to completion by 2025, was the product of a partnership between industry and government and should not be seen as a government-produced strategy.
The industrial strategy sets out a vision for the construction industry in 2025 with ten commitments under five key themes of skills, innovation, sustainability, economic growth and leadership.
In addition it identifies four key measurable ambitions, which Hansford said would be jointly met by government and industry. These are:
A 33% reduction in both the initial cost of construction and the whole life cost of assets
A 50% reduction in the overall time from inception to completion for new build and refurbished assets
A 50% reduction in greenhouse gas emissions in the built environment
A 50% reduction in the trade gap between total exports and total imports for construction products and materials
The strategy will be implemented by a new Construction Leadership Council, jointly chaired by business secretary Vince Cable and Network Rail boss David Higgins, and containing 30 members from across industry and government.
The strategy is part of the government's wide-ranging industrial policy identifying key growth sectors in the economy, which has seen it launch similar visions for the automotive and oil and gas sectors.
Speaking to Building, business minister Michael Fallon said: "This is the very first time government and industry has been brought together like this and bound in with joint commitments. It's not a list of of asks that they're calling on government to do, it's for the industry to take on."
Fallon, who will also sit on the leadership council, said the government would come back "year after year" to check progress. "The industry knows what it has to do in terms of transforming and improving exports and being greener. But so far there's not been a coherent commitment to get there."
Hansford, another member of the council, said the aim of the strategy was not to replace or deflect any of government's existing built environment policies such as the Construction Strategy, which covers government procurement, and the Green Construction Board. Instead he said it would drive progress by drawing the government and industry together in a joint vision of a revitalised, innovative, profitable industry.
"Yes our ambitions are bold, but they need to be bold to transform the sector. This is a starting point, which creates the framework which the leadership council will now take forward. It will mean changes of behaviour on both sides," he said.
"This is not about measuring so much as about direction of travel and philosophy. It's been a process of the government and the industry challenging each other, and then finally coming up with ambitions they're both comfortable to commit to. This is not a strategy coming out of government – it's industry and government together, and in that sense is very different to what's gone before."
The strategy identifies current weaknesses in the sector which require rapid improvement, such as the lack of diversity of the sector's workforce, the lack of integration between contractors and their supply chain, and low levels of innovation. It also has a big focus on improving the performance of the sector in selling itself overseas, saying this should broaden from consultants and designers to include large construction companies.
Hansford said: "Competing internationally will be one of the hardest bits of this to change. International competitors are much larger and much stronger. The industry needs to have a long hard look at itself to see how it can compete, and I'll be asking UK Trade and investment to help."
He said he accepted it was impossible to know how quickly change would happen following the publication of the report, but that the Construction Leadership Council would ensure the strategy was taken seriously and implemented.
Steve Hindley, chair of the Construction Council at business lobby group the CBI, said he welcomed the strategy, which he said had gained focus in recent weeks. He said: "It's been honed into something that's a really good starting point. this document gives us the focus, the areas to focus on. We've now got to do that work."