The government has launched a strategy designed to transform the UK into a "global leader" in the use of building information modelling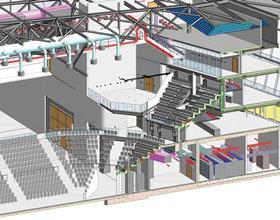 The 12-point BIM action plan, published by the Department for Business, Innovation and Skills (BIS), includes proposals to drive growth in the export of UK BIM expertise, the accelerated roll-out of BIM-compatible government tenders and a pilot programme to analyse BIM data from across the public sector.
Under the plan, BIS will work with UK Trade and Investment to capitalise on the "limited window of opportunity" available to export BIM expertise to countries that are less advanced in terms of BIM adoption.
Countries including the US and Sweden are widely considered to be ahead of the UK in terms of BIM expertise, but BIS insisted the UK has come a "considerable distance" in developing its BIM capabilities.
The report builds on the Cabinet Office's construction strategy, which set out a timetable for rolling-out BIM across all public sector construction projects by 2016.
BIM is a process for designing a building or structure collaboratively by using one coherent system of computer models.
Other proposals include working more closely with construction product manufacturers and offsite construction firms on BIM development and investigating the benefits of BIM for assets in operation.
BIS will also co-ordinate with other government departments to ensure BIM data feeds into the development of 'smart cities', which will collate data across all city functions.
The government will aim to take a "leading role" in the development of international BIM standards, enabling UK firms to work on BIM projects globally with minimum compatibility issues.
The government will also work with the European Union on incorporating BIM standards into the EU's forthcoming sustainable construction strategy and procurement directive.
The report proposes setting up a government-backed technology hub to incubate and stimulate BIM-related technology start-up firms.
BIS will soon launch its 'Digital Built Britain' initiative to further encourage BIM adoption across the industry.
The BIM action plan is available here.