Richard Howson says departments often gave firm incorrect information about the scope of work required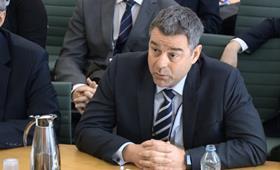 Government was a poor payer and often underestimated the amount of work it awarded contractors, the former boss of Carillion has told MPs
Richard Howson said Carillion encountered "very significant discrepancies between the contracted scope and the actual scope of the Government Estate" on a number of services contracts.
In a letter to Labour MPs Rachel Reeves and Frank Field, the chairs of the inquiry into Carillion's collapse, Howson (pictured) added: "Carillion was expected to fund the extra work for months and occasionally years, before the government paid us for additional work and substantial sums were still outstanding when I left the business [September 2017].
"In the meantime, Carillion funded its suppliers on these contracts from its own funds."
Howson highlighted the prisons maintenance contract tendered by the Ministry of Justice (MoJ) as an example of government's poor payment practice.
Last month, the prisons minister said Carillion proposed a deal with the Ministry of Justice to look after dozens of prisons – and knowingly lose £75m over its five year duration.
The claim was made by Rory Stewart who told MPs on the justice committee that the £200m contract the bust firm signed four years ago to look after 50 prisons was too good to be true.
But Howson said the firm had been given incorrect information by civil servants and added: "When Carillion won the contract to maintain prisons in the South of England, we found as we began to maintain the 54 prisons that the asset registers which the government had previously maintained and which had formed the basis of the tendering process, were significantly incorrect.
"In fact, I recall that there were approximately 60% more assets to maintain across the prisons forming our contract than had been disclosed by the MoJ in the tender and which Carillion had accordingly priced for."
He said this meant Carillion was incurring costs of 35% more than it was getting paid. He said while the MoJ did make some on account payments Carillion was looking to recover around £15m when he left the business.