Senior industry figures today joined Labour MPs in lambasting the government's recent performance on green growth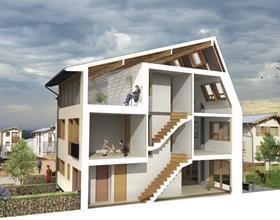 At a roundtable meeting on the fringe of the Labour conference in Brighton, attendees complained that low take-up of the Green Deal combined with the delay in updating Part L and the plan to phase out the Code for Sustainable Homes was undermining vital industry confidence in the low-carbon agenda.
The meeting is the second of three at all the main party conferences organised by the UK Green Building Council in partnership with Building and Ecobuild.
Steven Heath, external affairs director at insulation giant Knauf, said the firm was becoming "increasingly despairing of the approach and rhetoric" coming from government adding that it was now looking to Germany rather than the UK due to clearer and more ambitious targets there on domestic retrofit.
Heath added there was a real need for a "simple nudge" to be added to the Green Deal in order to incentivise it and said stamp duty measures plus lowering interest rates could be a solution.
Gerry O'Donnell, head of corporate strategy and government affairs at Philips Lighting, spoke of his "enormous frustration" that low energy lighting is not part of the Green Deal and contrasted Westminster's approach with that of Holyrood, which is replacing all street lighting bulbs in Scotland with LEDs in just one year.
Meanwhile, Martin Townsend, director of BREEAM at the BRE said the government's decision on the code could see the UK lose its green "exemplar" status in Europe.
He said: "The code, in essence, is a form of best practice which gives certainty and confidence to the market."
Labour MP Alan Whitehead said the Green Deal - which has produced just 12 completed Green Deals so far - is going "seriously awry" and said Labour would have to decide whether to stick with the scheme if it wins power, despite backing it in principle.
Subsequent to the roundtable, it emerged that Labour is planning to scrap the Green Deal if elected to government and replace it with a "better" scheme.
Fellow MP and former construction minister Nick Raynsford said he did not doubt the commitment of the Department of Energy and Climate Change to ambitious green policy but said chancellor George Osborne and the Treasury were "hostile".
"Looking forward to a possible Labour government, I think the good news is that the potential prime minister [Ed Miliband]is genuinely committed…but do not underestimate the views of wonks in the Treasury," he said.
Raynsford added that the government's decision not to update Part L in 2013 as had been planned had sent a "terrible message" to industry and suggested a Labour Government might split the Green Deal into different models for different markets such as affordable housing and the owner occupied sector.