DCLG data shows net additional housing grew by just 2% in 2017/18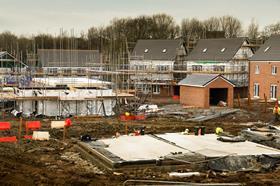 Experts have warned the government's goal of building 300,000 new homes a year risks becoming a pipedream as new figures showed net additional housing in 2017/18 grew by just 2% to 222,190 units.
With prime minister Theresa May fighting for her political life and to convince both Parliament and her own party of the merits of her Brexit deal amid a spate of resignations, including that of Brexit secretary Dominic Raab and pensions minister Esther McVey, the government published data to show there were 195,290 new homes built in 2017/18, up 6.4% on the previous year.
Figures from the department for housing, communities and local government showed a further 30,000 homes were created by converting offices and other non-residential space and 4,550 units from conversion of houses into flats.
Permitted rights developments, where full planning permission is not required to convert non-residential properties into housing, fell 28% to 13,526 units.
The peak for net additional dwellings since 1991/92 was 2007/08, when 223,530 were created.
Blane Perrotton, managing director of property consultants Naismiths, said both fragile demand and a lack of developer confidence since the 2016 referendum vote had "slammed on the brakes, even in the engine room of the construction industry".
Unless changes were made to the planning regime Perrotton said the government's goal of providing 300,000 new homes a year would remain "a pipedream".
And highlighting the slump in the growth rate in the number of new homes being built has slumped from 11.9% in 2016/17 to 6.4% in 2017/18, Joseph Daniels, founder of modular homes developer Project Etopia, said the political capital invested in talking about solutions to the housing crisis "is not translating into working capital on the ground".