Northern Ireland-based contractor blames knock-on effects of 'major contractor collapse' and failure of a JV partner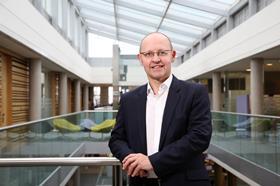 Graham Group, the privately-owned Northern Ireland-based contractor, has reported an 18% dip in annual pre-tax profit.
It is the second year in a row the firm has posted a decrease in its profit.
Despite reporting a 36% hike in turnover – to £768m – for the year to the end of March 2018 the firm said margins had been hit by what it called "the knock-on effects of a major contractor collapse", thought to be Carillion, and the collapse into administration of an unnamed joint venture partner.
Graham Group had been in a joint venture with Lagan Construction Group, working on a £100m project to redevelop Green Port Hull for Associated British Ports. Lagan Construction Group was one of four Lagan-related companies which went into administration in February this year.
Despite the profit dip the firm's executive chairman Michael Graham (pictured) said it was "at a level that the board is happy with following a year of extraordinary investment in the business" and what he called "issues in the wider industry".
Recent projects completed include a £113m student accommodation scheme for York University, while the group has been appointed to a number of frameworks including the Department for Work & Pensions and the £750m Clyde Commercial Framework.
The group employs around 2,000 staff operating from 17 offices across the UK and Ireland. It opened offices in Leeds and Liverpool during the year.