Construction group's staff numbers also rose to over 2,000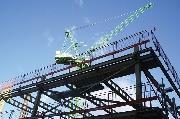 Northern Ireland-based contractor Graham has reported an 11% increase in turnover £566m for the year, up from £508m.
But in its results for the year ended 31 March 2017 the firm also reported a 7% drop in pre-tax profit to £16.1m, down from £17.2m for the previous financial year.
Graham, which has 15 offices spread throughout the UK and Ireland also reported that it was now employing over 2,000 staff and had seen its cash reserves increase to £66m.
Michael Graham, chairman at Graham, said: "Overall these are another strong set of results with our group business units continuing to deliver robust performances despite the uncertainties that the current Brexit negotiations bring.
"Our core markets remain strong given the UK government's infrastructure spend in civil engineering and a strong pipeline of opportunity in building, interior fit-out and facilities management."
Key projects for the firm include a £150m partnership with Barnet council to enhance education, community, leisure and operational assets across the borough won through ProCure22, the £100M Schools for the Future programme for Dumfries and Galloway council.
The firm was also appointed in May to deliver £50m of works at the world famous UNESCO World Heritage site Kew Gardens.