AHMM's plans were approved in July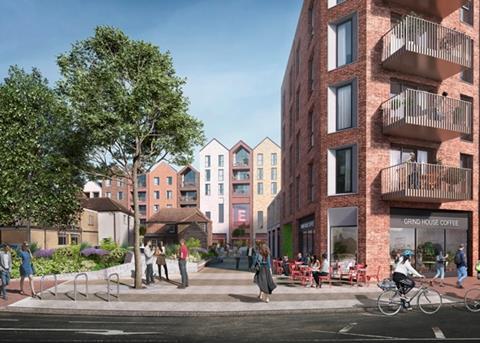 Graham has been chosen to carry out a £60m regeneration job in Surrey.
The Northern Ireland-based contractor will build the mixed-use scheme, which has been designed to transform Egham High Street.
The scheme, known as Egham Gateway West, has been designed by AHMM and was given planning in July.
The contractor is currently signed to a pre-construction services agreement, which is due to run until the first week of May.
The main package of works is due to start later that month and wrap up in the summer of 2021.
The new scheme combines retail and leisure spaces with student accommodation and 100 residential units, including affordable homes for rent and shared ownership properties.
An Everyman Cinema is also set to open as part of the project.
The development is being managed by Runnymede council and developer Places for People as part of the £200m Runnymede Regeneration Programme.
The programme will see several sites redeveloped across the borough in the next eight to 13 years.
Places for People was selected as the preferred bidder to manage the long-term regeneration programme in 2017.