Fears grow over Green Deal after figures show measures focused on boiler replacements rather than building fabric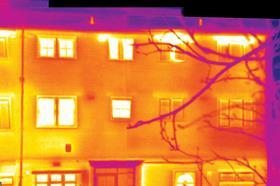 There are fresh concerns over the implementation of the Green Deal after it emerged that nearly all the measures that have received cash-back under the scheme are new boilers.
Official figures released last week showed that of the 974 cash-back vouchers that have been paid out in an effort incentivise take-up of the Green Deal 99% have been for new boilers.
Steven Heath, external affairs director at Knauf Insulation, said the scheme was "failing to deliver" the fabric first approach the government had intended.
He said: "The design of the cash back scheme was to encourage whole house retrofit. The outcome clearly shows the scheme has not delivered against that ambition."
Andrew Mellor, partner for environment at PRP Architects, said it was still too early to say if the Green Deal was failing to deliver a whole house approach but said that if the trend continued it would be a "partial failure".
He added: "I still believe it needs to be communication and marketed better, I have seen little bits but the hardly any of the general public know [about it]."
Matthew Rhodes, director at sustainability consultant Encraft, said that customers naturally gravitated towards installing new boilers because it was a technology they were familiar with.
He said: "It's a long job to get people thinking in a holistic way."
The numbers came along the first official side take-up figures for the Green Deal that showed just four finance plans had been signed after 38,256 assessments had been conducted, although a further 241 plans have been issued but not signed (see graphic below).
Under the Green Deal, householders can have an assessment carried out and then decide either to finance energy efficiency measures themselves; apply for finance through the Green Deal; or, if they are eligible, receive finance through the Energy Company Obligation, which will most often come through a local authority or a housing association.
Labour's shadow energy minister Luciana Berger said the scheme was "failing". "The Green Deal was billed as the biggest home improvements programme since World War Two, but these figures show it is failing and that David Cameron has no answers on how to help families with soaring energy bills.
"The fact that over 99% of people who had a Green Deal assessment didn't want to take out a package should be a wake-up call for the government."