Research shows that retrofits on homes deliver less than three-quarters of expected energy savings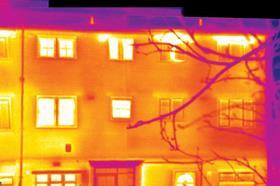 Only low cost Green Deal measures are likely to meet the flagship energy efficiency scheme's "golden rule" payback criteria because energy efficiency retrofits perform well below predicted levels, according to new research.
The research by the Joseph Rowntree Housing Trust and Leeds Metropolitan University found retrofits deliver less than three-quarters of the predicted performance improvements.
Under the Green Deal energy efficiency measures are paid for out of savings to energy bills over a number of years. If these modifications perform worse than expected, it will take longer for them to pay for themselves.
The research looked at a typical thirties terraced house with a standard and a radical package of energy efficiency measures, and found only 73% and 71% of the energy efficiency expected was achieved.
Based on the study's findings, consultant Sweett Group calculated the standard package would pay back 54% of its costs over 25 years and the radical package paid 22% when interest rates were assumed to be 7.5%.
The standard retrofit included cavity wall and loft insulation and a new boiler, all of which qualify for Green Deal funding. The radical retrofit included
the external wall and floor insulation, and triple glazing.
Longer payback periods could mean some measures won't meet the Green Deal's "golden rule" which stipulates measures must equal or exceed the savings on energy bills over 25 years.
The Department of Energy and Climate Change (DECC) has published "in use factors" that aim to tackle the issue of under performance in use by making a deduction in predicted energy performance. Cavity wall and loft insulation has an in-use factor of 35% and new boilers have a factor of 25%. However, DECC has not provided details on the impact under performance will have on payback periods.
Sustainability expert David Strong said that just because the research indicated some measures would not meet the golden rule now did not mean they could never meet it in future, if costs could be reduced.
"Clearly there will always be a difference between theory and practice. What the Green Deal will provide is greater evidence of the gap and all parties will have to work collaboratively to reduce it," he said.
Carbon saving targets downgraded
The government has downgraded its prediction of the carbon savings that the Green Deal and Energy Company Obligation will deliver,
its own impact assessment of the policy has revealed.
The government estimates the scheme will deliver a saving of 1.8MTCO2 per year - down from 2.1MTCO2 per year in its original consultation proposal, published
in November last year.
Doug Parr, director of policy at Greenpeace, said the downgrade showed a "weakening of resolve on doing anything about climate".
Parr argued that housing needed to be treated like other infrastructure investments with long pay back times and that the government was bowing to short term worries to make the scheme pay back for consumers quickly.
Officials from the Department of Energy and Climate Change said the revised figures would not affect the government's ability to hit its current carbon targets and was due to a downgrading of the expected carbon savings from solid wall insulation based on fresh data.