Bank takes construction risk for the first time on offshore wind projects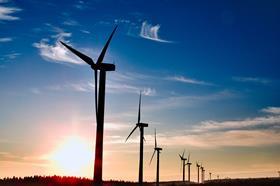 The UK Green Investment Bank has sunk £461m into two offshore wind farm projects, taking construction risk for the first time on an offshore wind project.
The bank, which is funded by the government, announced it would invest £241m in the Westermost Rough wind farm. The investment was made alongside Japanese investor Marubeni Corporation and the two parties will take a 50% share in the project from developer Dong Energy for around £500m.
The wind farm, off the coast of Yorkshire, is being built by Siemens and will generate 800GWh of net renewable electricity.
The investment is the first time the bank has taken on construction risk in such a project - until now it had just invested in operational wind farms.
The bank's strategy is to show that such investments in offshore wind can deliver good returns for commercial investors, which it hopes will allow other financiers to enter the sector and boost the pipeline of projects.
It also announced it will take a 10% stake in the Gwynt y Môr offshore wind farm for £220m. This project, off the coast of North Wales, is in the latter stages of construction and will generate 1,300GWh of net renewable electricity.
The bank said the proceeds of the both investments, when they are sold, would be reinvested into other renewable energy projects.
Shaun Kingsbury, chief executive, UK Green Investment Bank, said the bank had "two roles to play" in the offshore wind sector.
"Firstly, to directly invest to help developers recycle their capital into the next wave of new renewable energy projects. Secondly, to invest on fully commercial terms to create a demonstration effect which others will follow," he said.
Business secretary Vince Cable said the bank was "playing a game-changing role in financing our transition to a green economy".
He added: "Both the Westermost Rough and Gwynt y Môr projects will use Siemens turbines which demonstrates why their decision last week to build new manufacturing facilities in the UK was so important.
"Through our industrial strategy we are working in partnership with business to give companies the confidence to invest, securing high skilled manufacturing jobs and a stronger economy."
Energy secretary Ed Davey, said the investment showed the government electricity market reforms were helping to drive investment in the energy projects across the UK.