Lifschutz Davidson Sandilands-designed 23-acre scheme will be built next to London's Olympic Park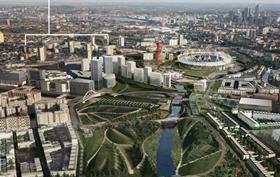 Newham council has given outline approval to a £1bn plan to build a new Lifschutz Davidson Sandilands-designed campus for University College London in Stratford, east London.
The plans will see UCL build halls of residence and laboratories on a prime 23-acre site adjacent to the Olympic Park.
Much of the site is currently occupied by the Carpenters Estate of council flats. UCL said it would work with Newham council to find a way of re-housing the 300 households.
The two parties plan to draw up a contract for the site by the end of 2013.
The Carpenters Estate has been earmarked for redevelopment by Newham since 2001.
UCL provost Malcolm Grant said: "Our outline proposition sets out why we believe that this is a major opportunity to create a world class residential and academic quarter that will be of real and lasting benefit to the Newham community, while also representing a significant step beyond Bloomsbury for UCL as we approach our bicentenary in 2026.
"UCL Stratford represents a truly long-term commitment by both organisations. UCL is a world-leading institution, but our plans for growth are currently limited by our central London location, so we need suitable space to support the development of world class teaching and research.
"UCL Stratford is not envisaged to be an east London satellite to our historic Bloomsbury campus, but a new internationally recognised research-led hub.
"UCL and Newham council will work with residents and the local community during the design process.
"We will do this through active consultation with Carpenters Estate residents, local businesses, and other key partners.
"We have always been clear that our involvement in the project depends on Newham's longstanding commitment to re-house the residents affected within the borough as set out in the Resident's Charter."