Architect Orms to revamp 1950s modernist building
Architect Orms has won planning permission for a refurbishment of a 1950s building on the corner of Oxford Street and Newman Street in London's West End.
The eastern end of Oxford Street is currently the focus of major construction projects, most involving demolition or retention of just a facade.
The refurbishment of Oxford House will remove an underused car park and replace it with a new office entrance and restaurant.
Oxford House currently provides office spaces on floors 1-9. Orms' design will completely strip out each floor plate creating new work spaces.
An extra floor will be dedicated to retail which currently occupies the ground floor and basement.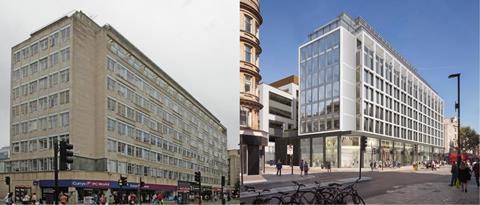 Orms' design will rejuvenate the deteriorating facade and address its poor thermal performance. The aim is also to better integrate the shops into the building.
Construction is scheduled to start in July 2017 and be completed in 2019.