Local practice also asked to rework high-rise tower in city
Glenn Howells Architects' plans to convert a historic warehouse in Birmingham into a new base for the BBC have been given the green light.
The Typhoo factory in Digbeth will be transformed into the headquarters of BBC Birmingham for developers Benacre Properties and Stoford following the approval from the local council.
Two thirds of the existing warehouse, built in 1929, will be retained, with the new scheme aiming to become an "exemplar sustainable workplace" which will positively contribute to the BBC's target of becoming net zero by 2030, Glenn Howells said.
The Digbeth-based practice said the scheme, which is scheduled to complete in 2025, aims to deliver one of Birmingham's first net zero buildings in construction, setting a new sustainability benchmark for the city.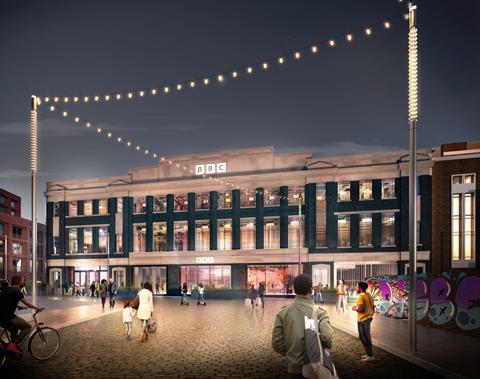 A new double height 'shopfront' drawing inspiration from the building's Art Deco style will provide a public face to the building, leading into a grand atrium running through the centre of the workplace which is designed to fill the interior with natural light.
Studio spaces, editing suites, desk spaces and a TV production space will be located on the building's first and second floors, with the top floor containing a roof garden overlooking the city and the HS2 line coming into the city from the east.
The wider masterplan will transform more than 10 acres of canal side land into a new creative district for Birmingham. The area will become home to a range of media offices including Midlands Today, BBC Radio WM, Newsbeat and Asian Network News.
Glenn Howells has also been asked to halve the size of a consented 61-storey Glancy Nicholls-designed tower in Birmingham for developer Urban Vision after the initial plans were deemed "undeliverable".
The former plans were designed for Euro Property Investments Ltd and approved in 2019, but it is understood the size of the 193m tall scheme made it unviable and the site was sold to Urban Vision.
The new proposals will provide 294 build-to-rent apartments, including co-working spaces and lounges, ground floor retail and office space and affordable homes "subject to viability", the developer said.
A planning application will be submitted to the local council within the next two months with a decision expected this year. Also on the project team is RPS and planning consultant Williams Gallagher.