Carlyle Group and PLP's plans for cluster of nine buildings approved by Southwark Council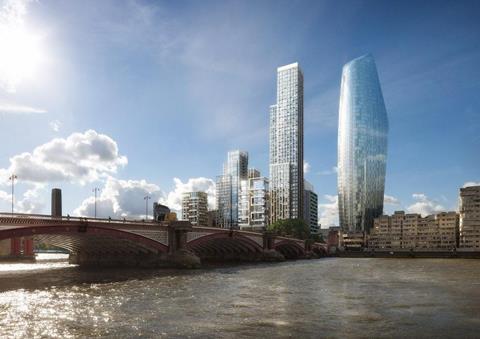 Plans for a cluster of nine buildings of up to 48 storeys high on London's South Bank have been approved by Southwark council.
The huge scheme, by developer the Carlyle Group and designed by PLP Architecture, involves the demolition of two existing buildings in Southwark, the late seventies Samson House and late eighties Ludgate House, current home of UBM, the publisher of Building.
The two existing buildings would be replaced with 1.4m sq ft of floorspace, including 494 homes, 450,000 sq ft of offices, 25,000 sq ft of retail and 18,500 sq ft of cultural space plus a 'cultural pavilion'.
The tower cluster (left of picture) will be built alongside the already approved 52-storey Ian Simpson-designed residential tower One Blackfriars (right of picture), which will be built by Berkeley.
Approval of the Carlyle scheme comes despite opposition from English Heritage and the City of London.
Carlyle Group will now wait to see if the scheme is "called in" for review by the government.
Another proposed tower cluster at the Shell Centre further west along the South Bank was called in last month.
Shell Centre joint developers Canary Wharf Group and Qatari Diar said the government's decision could lead to a four month delay in the development programme.
The Carlyle scheme also needs to secure London mayor Boris Johnson's approval.
Carlyle Group also announced today it has agreed a section 106 package of investment with Southwark council, the Greater London Authority and Transport for London worth around £75m, including £65m worth of affordable housing contribution.
Mark Harris, managing director at The Carlyle Group, said: "Our vision of an exciting new urban quarter on this prime Thames-side location has taken a significant step towards realisation with the council's decision to provide planning consent for our project.
"The site, which is right on the river, is currently extremely under-utilised from a physical, social, employment as well as cultural perspective and the support we have received from the local community and Southwark Council throughout this process, and last night, endorses our belief in the need for change.
"This is a once in a generation opportunity to create a vibrant new destination area, with homes, retail and leisure facilities which brings thousands of new jobs to the area, while at the same time allowing us to make a significant contribution to Southwark's wider housing requirements."
Councillor Peter John, Leader of Southwark Council said: "This is an amazingly exciting project which will bring new homes, new jobs and new opportunities for Southwark and its' residents - everyone in our borough can benefit from developments like this.
"It is further proof that Southwark is the new vital heart of London and is not afraid to play its part in leading the whole city out of recession."