Camden scheme will be demolished after 10 years to make way for railway's new central London lines
HS2 has been given the green light for a temporary construction skills college by Camden council.
The application for the six-storey building was lodged last month by a JV between Mace and Dragados.
Mace Dragados, one of HS2's main contractors, will eventually build the railway's central London terminus at Euston.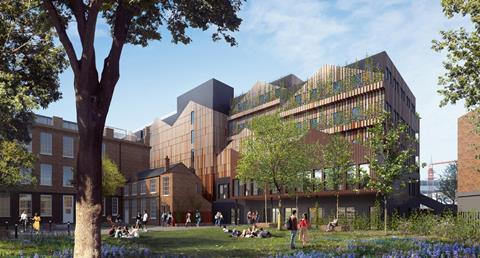 The college, which has been designed by Fraser Brown MacKenna Architects, will also include a welfare facility and temporary site office housing 2,500 HS2 staff.
It will be located on the site of the former Maria Fidelis school on North Gower Street and Starcross Street, close to HS2's Euston site.
The school was moved to Drummond Crescent on the other side of Euston station in 2019 to make way for the new lines, which will eventually pass through the site.
Also on the project team is Max Fordham on M&E, energy and services and landscape architect ME Studio.
A project update last month revealed that HS2's Euston station has been scaled back to save costs, and will now have 10 platforms instead of 11.
The redesign means that the station can be built in a single stage rather than two stages as originally proposed.
The report also admitted that cost pressures on the wider railway project had risen by £500m in the preceding six months and now stand at £1.3bn.
Last week, the government confirmed that HS2's £40bn eastern leg from the West Midlands to Leeds would be scrapped and replaced by upgrades to existing lines.
The announcement came as part of the publication of the long-delayed Integrated Rail Plan, which also revealed that the £39bn Northern Powerhouse Rail scheme would be scaled back and a planned new line between Manchester and Leeds ditched.