It is the second of four projects designed by Fletcher Priest to get planning approval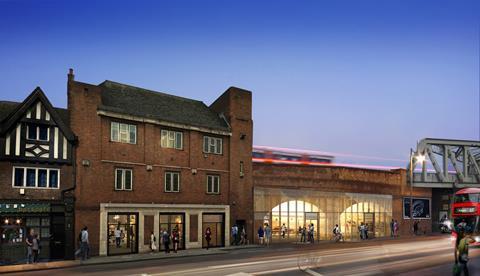 Planning approval has been given for the restoration and conversion of derelict railway arches in Shoreditch.
The site, in the Kingsland Road conservation area, runs north from what was previously Shoreditch station, which closed in 1940, and includes the old 1928 ticket office.
It is second conservation project from Transport for London (TfL) designed by architect Fletcher Priest to be consented. The architect was appointed – through competitive tender as part of the GLA/TfL ADUP framework – to carry out urban design studies of four different sites.
The first – converting 31 disused arches at Wood Lane – is already entering the first phase of development.
The Kingsland Road design removes low frontages and other structures that have been obscuring the arches and encloses the entire arch haunch and crown in a glazed box. Stone dado work will be removed from under the windows of the frontages and relocated to the new buildings.
It also removes the back wall of the constrained existing building to create a new connection through to previously inaccessible arches. This significantly increases the usable space. New doors on to Kingsland Road will re-activate a previously long run of closed street frontages, said the architect.
Graeme Craig, TfL's commercial development director, said the scheme would provide new space for business.
"Transforming the arches at Kingsland Road will bring a new lease of life to these vacant units, while maintaining the character of the area," he said.