KCTMO director accepts contact with bidder put procurement exercise at risk of challenge but says it was not illegal
A director at the organisation responsible for overseeing the refurbishment of Grenfell Tower has admitted instigating talks with future main contractor Rydon before its appointment had been confirmed but rejected the suggestion his actions were "improper".
Peter Maddison, who was director of assets and regeneration at Kensington and Chelsea Tenant Management Organisation for the duration of the ill-fated project, which led to 2017's fire and 72 deaths, told the inquiry into the disaster the contact was vital to move the project forward.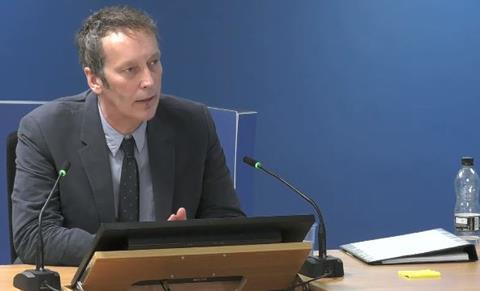 Maddison told Thursday's session of the Grenfell Tower Inquiry that he had known Rydon head of regeneration Stephen Blake and managing director Jeff Henton before he joined KCTMO in 2013.
The inquiry heard in earlier sessions that Blake was tipped off by someone at "K+C" that Rydon was in "pole position" to win the OJEU procurement process for the Grenfell Tower refurbishment in early March 2014.
The information was in an email Blake sent to a colleague the day before the three shortlisted firms, who also included Durkan and Mulalley, were due to be interviewed as part of the process and almost two weeks before Rydon was formally notified it was KCTMO's preferred contractor.
On Thursday, Maddison said he was not responsible for the tip-off, which occurred at a housing conference in Brighton that both he and Blake attended. He added that he did not know who may have been responsible.
But Maddison admitted that he had called Henton a few days later to tell him Rydon was "in first position" and to "agree a process" to clarify whether the TMO would be able to award the contract. That process was to secure Rydon's agreement to finding £800,000 in savings on the refurbishment to bring its £9.2m winning bid in line with the TMO's budget.
Later on the day that Maddison told Henton that Rydon was in line to be preferred contractor arrangements were made for a meal to bring together senior TMO and Rydon directors.
Inquiry lead counsel Richard Millett QC asked whether there was an "element of celebration" about the event, on the grounds that Rydon was keen to do lunch or dinner in central London.
"He may have seen it like that," Maddison replied, referring to Henton.
The following day – 11 March 2014 – Henton sent an email to colleagues at Rydon telling them that their bid price and presentation for the Grenfell refurbishment were in first place. "Subject to a small amount of value engineering, Peter should be in a position to recommend our appointment on this scheme to his board early next week," he wrote.
Millett asked Maddison if he had told Henton that Rydon was going to get the contract "subject to a small amount of value engineering".
Maddison said he would not have said the appointment would be subject to a small amount of value engineering, but rather "subject to the completion of the standstill period and board approval".
Maddison rejected Millett's suggestion that it had been "improper" in terms of procurement rules to informally tell Rydon it was in first place while the OJEU process was still live.
"I wouldn't call it improper," he said. "I would say that it did factor in some potential risks of challenge within the EU procurement rules. We took legal advice on that. The advice was not that it was illegal or improper."
Maddison said he understood the risks involved were "commercial risks".
Last week the inquiry heard that law firm Trowers and Hamlins' advice was that KCTMO could not enter into negotiations with any of the tenderers prior to the award of a contract. It said the only "EU compliant" options were to award the contract based on the original criteria and then discuss value engineering options afterwards or not award the contract to any bidder and start a new procurement exercise.
Maddison told yesterday's hearing that the TMO was keen to avoid re-running the procurement exercise and believed its only option was to work with the "existing contractor", Rydon.
"We were in a situation where we'd only had five tenderers who had gone down to three," he said.
"We were clear there wasn't a very strong market there."
He said getting "clarification" on the approach to cost reduction for the project was critical for getting KCTMO's board to approve Rydon's selection as preferred bidder because Rydon's winning price was above the TMO's £8.5m budget.
Thursday's session heard about a range of contacts between Maddison and Blake in mid-March 2014 on the topic of potential value engineering savings. Maddison also accepted that he had instructed KCTMO head of capital investment David Gibson to send an email to Blake setting out detailed areas on the project that could contribute to the £800,000 savings target.
The email also confirmed the details of the secret 18 March meeting that Gibson last week chose to describe as "offline".
Contact with Rydon
Maddison said he had been working at Hyde Housing Association when he first met Blake. He said that Rydon had done a lot of work for the association but that he had never personally appointed the firm to any job it had bid for because it "tended to be more expensive than most".
"I wouldn't really say I knew Mr Blake," Maddison said. "I knew him in the same way that I knew his equivalents in most of the main contractors who would bid for this sort of work."
Between working at Hyde and KCTMO, Maddison worked at Homes for Haringey, where Henton was a non-executive director in addition to his main job at Rydon.
Maddison joined KCTMO from Homes for Haringey in January 2013.
Thursday's inquiry session heard that in early 2013, while construction firm Leadbitter was still the expected contractor for the Grenfell Tower refurbishment, Maddison suggested to TMO consultant Artelia that Rydon could offer "cost advice" on the project.
Maddison said he was aware that Rydon had been responsible for the overcladding of tower blocks on the Chalcots Estate in Camden. He told Wednesday's hearing that he had visited the project when work was ongoing.
On Thursday, barrister Millett asked Maddison about an April 2013 email exchange between Blake and Henton which had the reference "Grenfell Tower Regeneration Project". In the mail, Blake told Henton: "This [is] the Peter Maddison scheme which is right up our street." He went on to suggest that KCTMO was asking for a framework Rydon was on "to avoid OJEU".
Millett asked why Blake would be referring to Grenfell as "the Peter Maddison scheme".
Maddison said he would always contact his "network" whenever he moved jobs to let them know where he was and "talk opportunities".
"What we were doing at KCTMO was trying to gear up to deliver much bigger programmes, and we needed larger-scale contractors to come in and help deliver," he said.
"There were conversations that I've had with a whole range of contractors and, in reality, that field is relatively small. There aren't hundreds of contractors who do refurbishment of homes in occupation at large scale."
Maddison was also asked about a July 2013 entry in one of his diaries that read "OJEU – let Jeff know".
He said it was a reminder to give Jeff Henton a "heads up" that the OJEU notice for Grenfell was being issued.
Millett asked whether Maddison had contacted any other potential contractors in a similar way.
"I suspect we would have contacted Keepmoat," he replied.
Millett said Maddison's notebooks – submitted to the inquiry just days ago – did not suggest he had intended to make contact with any other contractors about the OJEU notice.
Concerns about Leadbitter
Maddison told the hearing he had concerns about original Grenfell refurbishment contractor Leadbitter's suitability for the project from an early stage in his time at KCTMO.
Leadbitter and project architect Studio E had been brought onto the refurbishment because they were delivering the neighbouring Kensington Academy and Leisure Centre project for the Royal Borough of Kensington and Chelsea. By early 2013, that project had a budget of £50.4m.
Maddison said in his witness statement that he had concerns about Leadbitter's costings for the Grenfell refurbishment which were £12.1m in February 2013, but dropped by almost £2m by April, and its suitability as main contractor. He said it lacked experience in the kind of work the Grenfell project would involve – and of working with residents who remained in their homes during the works.
Millett told Thursday's hearing that there was a "lack of urgency and a lack of commitment to the project" from Leadbitter.
"My biggest concern was their lack of experience of refurbishing this sort of project," he said.
"My experience of them was as a new-build developer rather than a contractor experienced in refurbishing homes in occupation."
He added that he also had concerns about the firm being taken over by Bouygues who, he believed, lacked experience of working with residents in occupation.
Millett asked Maddison why he had fears about due diligence in the appointment of Leadbitter, but not about Studio E, which had never worked on a high-rise residential overcladding project before.
"I'd had no concerns personally that I'd recognised in relation to Studio E, and neither did any of the other members of the professional team," he said.
"I didn't know their lack of experience on high- rise at that time."
Maddison subsequently said it had been his expectation that by putting the Grenfell Tower refurbishment out to tender as a design and build project, the winning contractor would have been responsible for examining the architect's design decisions.
He said Leadbitter's competence could have been subjected to due diligence if it had chosen to bid. It did not.
The inquiry continues.