Exova simply not involved in choosing cladding, firm's QC says
A report which mentioned the use of the cladding held responsible for the Grenfell Tower fire was never sent to the refurbishment's fire safety team, the public inquiry into the disaster has heard.
Fire safety consultant Exova has been heavily criticised for an October 2013 assessment of the tower's refurbishment which stated that the use of combustible ACM cladding "would have no adverse effects on the building".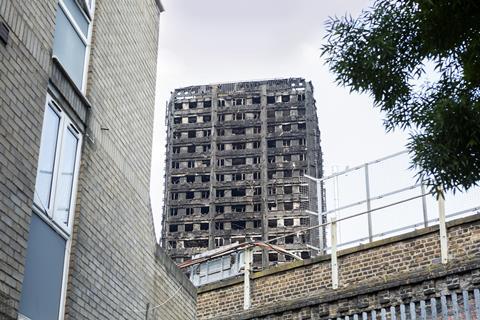 But the firm's counsel, Michael Douglas QC, said the report referred to drawings which "did not contain any reference whatsoever to cladding and were concerned primarily with the revamp of the lower four floors".
A later report which did mention the option of using ACM was never sent to Exova, Douglas told the inquiry.
He added that Studio E, the project's principal architect, "obviously considered that they didn't need or want input from Exova. No questions were asked, no drafts circulated. No Exova involvement in the selection of materials. Exova were simply not involved."
He said: "Exova are not aware that anyone appointed by the design team or the design team itself took any steps to verify whether the fire performance requirements set out in the employer's requirements were being complied with."
Exova was principally involved in the tower's ground-floor renovation and was not involved in the decision to use ACM cladding by the design team, Douglas added.
He said ACM was first mentioned in March 2013 during a period when the refurbishment had effectively been put on hold "because of cost issues and the project running over budget".
Once the design team had been established, Douglas said that main contractor Rydon, building manager Kensington and Chelsea Tenant Management Organisation and quantity surveyor Artelia "almost immediately began discussions about [the] saving of money on the cladding if ACM was selected".
Douglas added that cladding subcontractor Harley had estimated a saving of £450,000 if the job used ACM.
The inquiry is expected to continue for up to 18 months.