Sales manager made admission in secretly recorded phone call in the days after the fire
Arconic continued selling the combustible ACM cladding installed on Grenfell Tower after its test report had been withdrawn because of the "cost implications" of removing it from the market, the inquiry has heard.
Former Arconic sales manager Deborah French made the admission to John Simmons, who worked for one of the firm's client's Simco, a week after the fatal fire in June 2017 in a telephone conversation which Simmons secretly recorded.
Simmons had asked French why Arconic had not withdrawn its Reynobond PE panels, which were used as part of Grenfell Tower's refurbishment, as rival firm 3A had done with its similar Alucobond product.
French replied: "There were some discussions around when Alucobond did do that and it was… it was the cost implications."
She added that she had advised that Arconic should withdraw the panels but "it was more to do with the fact that we didn't want two products in the market".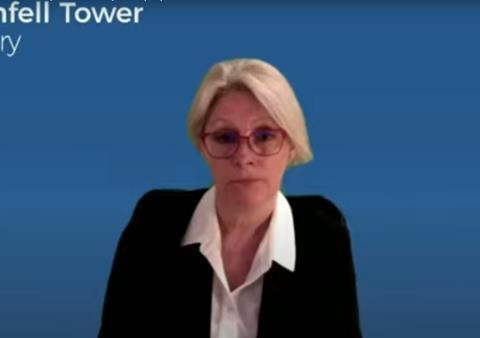 Arconic had at the time been selling two versions of Reynobond. One, was fire retardant, known as FR, which had a 70% mineral core, and another called PE, which had a polyethylene core and was cheaper but combustible.
Thursday's hearing was told that Arconic's margin on FR was around €5-€6, but was €7-€8 on the far more popular PE.
French said that she remembered having discussions with a colleague about whether Arconic would follow 3A's lead and withdraw Reynobond PE from the market but was told that "we would continue as we were".
Asked by counsel to the inquiry RIchard Millett QC what she meant by "cost implications," French replied: "The fact that we would have had to have supplied FR at a more expensive rate."
Millet then asked: "Do you recall whether, in considering those commercial considerations, any consideration was given to the fire safety consequences of continuing to sell Reynobond PE?"
French replied: "I don't recall any conversations of that nature."
Earlier in the recorded telephone conversation, Simmons told French that Reynobond had "gone up like a fucking bonfire" when ignited.
Simmons said: "Just to let you know we set fire to a piece of stack next to a piece of Reynobond the Reynobond goes up like a fucking bonfire, the stack does withstand it."
He did not clarify which version of Reynobond had been ignited.
In February, French was sent a test report of Reynobond PE which showed that it had been downgraded to the Euroclasss E rating.
It had previously been classed as Euroclass B in a 2008 test report, which the British Board of Agrement had used as the basis for giving the product the UK class 0 rating, which marked it as safe for use on buildings over 18m in height.
Asked by Simmons in the phone conversation why Arconic had not made this public, French said it was because she thought the firm was challenging the testing of it and that they were also looking at developing a different colour core.
But she added: "There was a lot of stuff in terms of development that they didn't share with any of us. [They] are very secret over stuff like that".
French, who left Arconic in 2015, also told the inquiry that she had not warned her replacement Vince Meakins about the downgraded fire rating of Reynobond PE.
Millet asked: "Vince Meakins had taken over your role at Reynobond; did you not seek to tell Vince Meakins to warn Harley and warn those on the Grenfell Tower project that you had supplied Reynobond with a PE core which in fact did not have class B but class E?"
French replied that she did not, and when asked by Millet why that was, she replied: "I don't know, I'd moved on and I didn't think in that way."
Phase one of the inquiry into the Grenfell disaster that killed 72 people found that the cladding installed on Grenfell Tower was the "primary cause" of the spread of the fire.
The inquiry continues.