Shock as TMO director of assets and regeneration makes last-minute disclosure of previously unseen diaries
One of the most senior figures involved in the refurbishment of Grenfell Tower has shocked the inquiry into 2017's fire by making a last-minute disclosure of hundreds of pages of notes from his five-year stint at Kensington and Chelsea Tenant Management Organisation.
The inquiry legal team – probing the flawed refurbishment of the west London tower block, which led to the loss of 72 lives – said solicitors for KCTMO made the revelation that former director of assets and regeneration Peter Maddison had a stack of undisclosed evidence at 4.40pm on Friday.
In an equally surprising disclosure TMO project manager for the Grenfell Tower refurbishment Claire Williams admitted at today's hearing that she had "binned" some of her notebooks relating to the project.
Inquiry lead counsel Richard Millett QC told the inquiry this morning that Maddison's evidence consisted of five diaries and eight day books that "plainly contain material of the utmost relevance".
Maddison is due to give evidence to the inquiry later this week and was KCTMO's senior staff member in charge of the refurbishment project.
[They will] have to give clear and convincing explanations of why these documents were not disclosed to the inquiry – and so far as we can tell to the Metropolitan Police – until now

Richard Millett QC
Millett said both Maddison and TMO legal adviser Kennedys were "going to have to give clear and convincing explanations of why these documents were not disclosed to the inquiry – and so far as we can tell to the Metropolitan Police – until now".
Millett said the inquiry had been contacted late on Friday afternoon by Kennedys. The firm said Maddison had been watching the evidence of Williams and colleague David Gibson, both of whom were asked about a "secret" 18 March 2014 meeting between the TMO and Rydon while the Ojeu procurement exercise for Grenfell Tower's refurbishment was live.
Neither Williams nor Gibson said they had retained notes at the meeting, which was called to discuss Rydon's ability to deliver £800,000 of additional savings from its tender price if it was picked as preferred main contractor for the refurbishment – against legal advice given to the TMO.
Millett said Kennedys told the inquiry legal team: "Having watched the evidence of his former colleagues at the inquiry, and in particular the questions asked of them as to whether minutes or notes of the meeting with Rydon on 18 March 2014 had been made, he decided to check his notebooks to see whether he had made notes of that particular meeting."
Millett said Kennedys maintained the contact with Maddison was the firm's first knowledge of the diaries' existence. He added that the inquiry legal team had had a chance to look at scans of the diaries over the weekend, but only received hard copies of the notebooks at 8am today.
He proposed that Maddison be sworn in tomorrow, but that cross-examination be delayed so that "core participants" in the inquiry got a chance to look at the new evidence before Maddison was questioned in person.
Inquiry chairman Sir Martin Moore-Bick said it was "very unsatisfactory" that such a substantial stack of notebooks should have been disclosed "very much at the last minute".
Project manager destroyed notebooks.
In light of the new evidence from Maddison, current witness Claire Williams was asked by Millett whether she had handed over all of her notebooks, diaries and records to Kennedys.
"I binned all of them but the last one," she replied.
Inquiry chair Moore-Bick asked Williams if it was right that she had binned her diaries.
"I didn't keep them. I think if the police didn't take them I binned them," she said.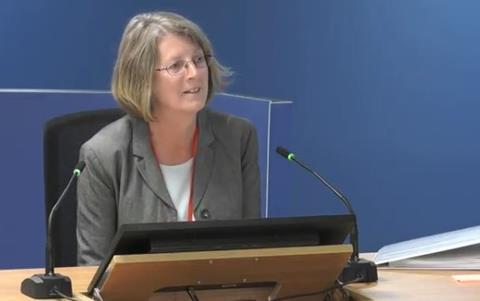 Moore-Bick asked Williams why she would have binned her diaries when she knew that the public inquiry into the Grenfell Tower fire was already in progress in 2018.
"I believe I looked at them and they were notes," she said. "Everything that was in there, I would have thought is actually documented elsewhere."
Moore-Bick said he found it difficult to understand how Williams could have thought that the notes she had kept might not add something of value to the formal records, and why she should think it right to take it upon herself to decide the answer to that question.
"As I'm sitting here now, I agree with you," she said. "The police may have taken them, but I know there were none left in the office when I left."
Millett asked Williams whether she destroyed her notebooks before or after the police went through her desk.
"I don't remember," she said. "I wasn't there when the police came to take all the paperwork away. All I know is that when I left, I just left with the one notetbook."
Millett asked Williams why there was nothing in her written witness statements to the inquiry about her decision to destroy records relating to the Grenfell Tower refurbishment project.
She replied: "There was nothing underhand about it. I was clearing my desk."
Millett asked Williams whether she had ever informed the Metropolitan Police that she had destroyed documents that were relevant to their investigation.
"No I didn't," she said. "It's not occurred to me. Today is the first time I've ever really had a conversation about this."
The inquiry continues.