Hearing resumes on Monday
The Grenfell Inquiry has been unexpectedly adjourned until next week after one of the witnesses was taken ill again.
Studio E architect Bruce Sounes returned to the witness box on Wednesday afternoon after a previous episode of ill health and had been due to continue giving evidence for the whole of yesterday.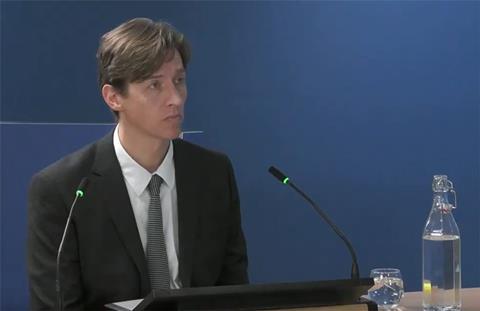 When the session ended on Wednesday, inquiry barrister Kate Grange QC told chairman Martin Moore-Bick that "it would be tight" to finish questioning Sounes today but that she would attempt to get to the end of his evidence this week. The inquiry does not sit on Fridays.
But the inquiry's official Twitter yesterday account said: "Hearings today have been adjourned due to the witness not being well enough to give evidence today."
No further details were given. The inquiry will resume at 10am on Monday but the schedule of witnesses will not be published until later today, presumably to give Moore-Bick time to decide whether Sounes is likely to be well enough to take the stand.
Last week Sounes, who was Studio E's original project lead on the Grenfell Tower refurbishment project, was taken ill after his first morning of giving evidence. After an afternoon's hiatus the order of witnesses was shuffled to keep proceedings going. Sounes resumed his evidence, once all the other Studio E witnesses had completed their evidence.
Witnesses are questioned for about three hours in the morning and two and a half in the afternoon, with short breaks.