Hired hand did not know what job title would be until cladding specialist printed his business cards
Cladding specialist Harley Facades' "project designer" for the Grenfell Tower refurbishment has told the probe into 2017's fire disaster that he was merely a freelance drafting service charged with turning architect Studio E's drawings into fabrication versions.
Kevin Lamb told the Grenfell Tower Inquiry that he had agreed to do around 41 days of work on the project for Harley because it did not have the in-house capacity to translate Studio E's work into plans that were ready for construction.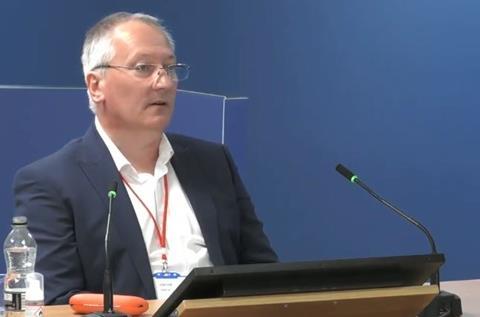 Lamb was a former boss of Harley's then design manager Daniel Anketell-Jones and had worked on Harley and Grenfell main contractor Rydon's Chalcots Estate refurbishment in Camden a few years earlier.
Lamb had a 30-year career in curtain wall and windows work and some experience of cladding. He worked as a technical architecture adviser at Schüco in the 1990s before setting up his own Bespoke Design Services firm in 2000. He is not a qualified architect.
He told the inquiry into the west London tower-block fire, which claimed 72 lives, that his role was to act as a drafting service to transfer Studio E's drawings into fabrication drawings so that the external cladding system proposed for Grenfell could be manufactured and installed.
Asked by inquiry barrister Kate Grange QC whether he knew Harley was going to present him as the "project designer" for Grenfell when he agreed to work for the business, Lamb replied that he did not.
"You don't want to read too much into that term," he said. "There's a general consensus that once you put the word 'designer' in there there's an element of responsibility, far more than maybe there should be.
"I was never told I was lead designer. I was told I was project designer. The first I knew of that was when they [Harley] had some business cards printed up with my name on."
Lamb said the job title he was given had not stopped him from " being quite clear" that he was working through Harley's technical team.
On Tuesday, the inquiry heard that Harley had been keen to reassure Rydon that it had a design team working on Grenfell at a time when it lacked in-house capacity to deal with the project.
Anketell-Jones said he was presented to Rydon as "lead designer" for the project as a "stop-gap" measure before Lamb was brought in.
Lamb said on Wednesday it had been his understanding that Studio E was responsible for checking that the new cladding system proposed for Grenfell Tower complied with Building Regulations and other applicable standards.
Barrister Grange asked Lamb if anyone at Harley had ever told him that the firm would not be checking the Grenfell cladding system for compliance but that Studio E would.
Lamb replied: "No, that was an assumption that I made, based on 30 years of never doing it a different way."
He said it would have become "quite obvious" if Studio E did not have that role and that at no stage in his involvement with the project did he get the idea the practice was not checking for statutory compliance.
Lamb was asked whether he had any knowledge of the contractual relationship – in fact a letter of intent from main contractor Rydon – that defined Harley's role on the Grenfell Tower refurbishment. He said he did not.
Lamb told the inquiry that materials for the project were always issued to him as "a fait accompli: this is what we're doing".
Grange asked Lamb about his familiarity with relevant parts of the Building Regulations and professional guidance. He said he had checked Approved Document B and Celotex product information as part of his work on Grenfell.
He said he did not know there was an issue about the use of polyisocyanurate (or PIR) insulation boards on buildings above 18m in height – such as the Kingspan Thermapitch TP10 used for infill panels between windows at Grenfell.
Lamb also said he did not know that the Class O fire-performance description primarily concerned lining materials.
Additionally, he said he was not aware of the CWCT Standard for Systemised Building Envelopes that required cavity barriers around windows as part of rainscreen-cladding systems but had a "hunch" about it.
Lamb said that although he had noticed the absence of such cavity barriers in Studio E's drawings, he believed the architect had created a design that followed a different route to statutory compliance.
"The architect had the use of a fire consultant and they must have considered this cavity barrier design," Lamb said.
"Between them, they must have considered this design to be compliant.
"The last thing the architect wants is to say 'Oh, I forgot to put cavity barriers around the windows', and then the subcontractor would be asking the client for more money because they've not provided these items."
Wednesday's session heard Lamb had agreed to invoice Harley for £10,572.80, exclusive of VAT, in return for his proposed work on the Grenfell Tower project.
The inquiry continues.