Combustibility of the external cladding meant building was completely compromised within an hour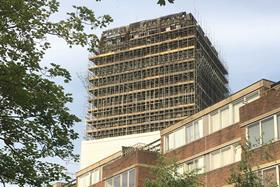 Residents within Grenfell Tower should have been told to evacuate and not stay put due to the external spread of fire, the public inquiry into the Grenfell Tower tragedy has heard.
Expert reports, released by the inquiry today, have said the rapid spread of fire from inside apartment 16, the flat where the fire started, to the external cladding system and the subsequent spread of flames both externally and internally made the stay put strategy "unfit for purpose".
Dr Barbara Lane, a chartered fire engineer, concluded that residents should have been told to evacuate within 45 minutes of the first 999 call on 14 June last year.
She said: "The underlying assumptions of the building design… were undermined by the spreading external fire and the resulting internal spread of fire and smoke.
"This meant there was a total failure of the principles of Stay Put. It rendered the Stay Put strategy unfit for purpose before 1.26am."
The formal stay put policy was maintained until 2.47 am.
Prof Jose Torero, John L. Bryan, chair and director of the Center for Disaster Resilience at the University of Maryland, went further, writing that before 1.05am - between 13 and 18 minutes after the first 999 call - the fire had reached the external cladding, meaning from this point the 'stay put' strategy was "compromised".
His report found: "Analysis indicates that relatively minor, localised fire, compromised the uPVC window fittings and ignited one of the flammable components of the cladding by direct flame/plume impingement.
"This likely occurred before 1.05am, and before first responders entered Flat 16. This marked the end of the first stage of the fire.
"From this point forward, the stay put strategy was compromised and evacuation of occupants was an option to consider. Firefighters would have been operating outside of their prescribed operating procedures. The building performance implied by the design approach followed was also breached."
He also said the architectural crown was a key component that enabled the external spread of fire, saying its "propensity to support lateral flame propagation, drip molten material and drop burning debris" were particularly significant.
Torero also said while human factors, both during and before the fire, were relevant to the internal spread of the fire "the failure of compartmentalisation needs to be treated as a compliance issue".
Many have been outraged that Dame Judith Hackitt did not call for an outright ban of combustible cladding, which played a significant role in the external fire spread, in her review of building safety commissioned in the wake of the Grenfell tragedy.
While failing to recommend the ban, Hackitt said she would support government if it chose to follow that path.
Since the release of her report, housing secretary James Brokenshire has said the government will consult on a ban, while both he and Theresa May have said the government is generally in favour of outlawing the controversial products.